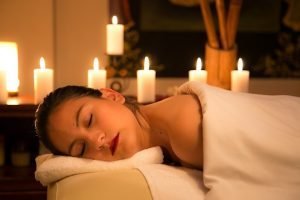 Aromatherapy is the science of using essential oils – which are plant materials containing aromatic properties – and other materials that could help in creating scents that could influence a person's mood, health, or abilities. If you are suffering from a sexless marriage, perhaps a change of scent could reignite the spark between you and your spouse.
Top Aromatherapy Products to Revive Your Marriage
The power of a person's sense of smell is often vastly underestimated. But if you think about it, you'd no doubt remember the times in which your sense of smell has greatly influenced your decision. Think about the times when a person's perfume has made you like or dislike the other person. Think about the times that certain scents have made you more patient and considerate when you'd normally have been jumping up and down in frustration.
When you use the right product at the right time and place, Today, you have an opportunity to get over the sexless state of your marriage permanently with the help of the various aromatherapy products listed below.
The Afterglow Massage Candle by Jimmyjane
If you want luxury and practicality in a single product then the Afterglow Massage Candle is for you. It comes with a wide array of fragrances to choose from: black currant, bourbon, cucumber, dark vanilla, fig leaf, and pink lotus.
Be sure to choose the scent that best fits your partner's personality and needs. Scents, after all, have varying effects and flavors. Some scents are aggressively male while others are mild and soothing. Some scents have the ability to eliminate your stress while others are able to make you feel more sexually desirable.
In any case, you should choose the scent that would be most effective in making your spouse ready and willing to put the spark back in your marriage.
The Afterglow candle should be lit ahead of time. Better yet, why not use it to create a cozy and intimate ambiance as you enjoy a romantic candlelit dinner in your bedroom? If possible, maybe you could also do something about the menu and include a couple of aphrodisiacs in your dishes.
When dinner is over, the Afterglow candle would have already created a small puddle of oil. Blow out your candle and leave the oil to cool. Once it's cool enough to touch, dip a brush into the oil and apply it to your husband's body for a uniquely sensual and scented massage.
As the Afterglow candle is made of natural ingredients, you don't have to worry about your husband suffering from any ill side effects. Its non-greasy texture will feel lovely against your husband's skin as you massage his tired muscles.
If you wish, your husband could return the favor and apply the same substance to your body as well. It could serve as a great moisturizer for your skin and enhance foreplay at the same time.
Beeswax Aromatherapy Candle by Bluecorn Naturals
The great thing about this candle is that it contains enough beeswax to maintain its distinctly sweet scent but it's also sufficiently filtered for the candle to burn cleanly.
There are six types of scents that you could choose from with the Beeswax Aromatherapy Candle and to help you decide, Bluecorn Naturals have provided a guide for scent selection.
Lavender-scented candles are best used for relaxation. It would be ideal to use for greeting your husband after a hard day at work. It's sure to revitalize his mind and body and put him in a more welcoming mood for some bed play.
The combination of lemongrass, rosemary, and cinnamon, on the other hand, creates a scent that inspires tranquility. If your husband is in much need of peace and serenity then this is the candle you should use. A change of scenery could make this candle even more effective. You could arrange for an overnight stay in a hotel or get away for the weekend. But if there's no time for that, you can always redesign your bedroom in little ways – you'll find lots of tips for instant makeovers online – and create a private little haven for your husband.
Hopefully, it will be enough to put him in a good mood to improve the state of your marriage.
Other scents offered can increase a person's clarity, uplift his spirits, and improve his well-being or sensuality. Whichever scent is fine – just choose wisely!
Illume Candles
There are two particular candles created by the wonderful Illume Candles that could be of valuable help to your marriage.
The Illume Pearl Candle will be the perfect touch to add if you are celebrating a huge and important occasion such as your wedding anniversary or your husband's long-awaited promotion. Its elegant, pearl-inspired appearance as well as its lush scent is sure to tell your husband in no way words can express how much you love him and how proud you are of his achievements.
The Illume Pearl Candle is made by a combination of clove, sandlewood, citrus notes, and extracts of vanilla, orchid, hibiscus, and peach.
And then there's the 23 Collection of Illume Candles, made of the best quality of soy wax and lead-free wicks for safe and environmentally friendly use. At 7.9 oz, it's also capable of lasting for up to fifty hours.
The 23 Collection also offers a beautiful selection of scents: cucumber for a refreshingly clean and revitalizing ambience, pomegranate for an afternoon of light-hearted fun, angel food cake for a deliciously sweet romance, and Valencia orange for a bright and cheery mood.
Romantic Candle by Kingman
Last but not the least, there's the Romantic Candle by Kingman. Unlike many other aromatherapy candles, Kingman's delectable creation offers an extra but surely welcomed dose of pheromones to enhance the sexual chemistry between you and your partner.
Whenever or wherever you may be using this, one whiff of its arousing scent may be more than enough to put you and your partner in the mood to rediscover the pleasure of sharing each other's bodies.