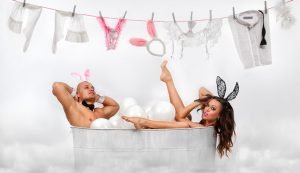 Ahh yes, Porn. We all watch it, alone or with a partner.
Some of us watch it for entertainment purposes, others for personal, and despite what people tell you, you can learn a lot from it to aid your sex life. However, there are things you NEED TO KNOW otherwise it may totally mess up your sex life.
Observe the Formula!
Porn is formulaic at best, and usually it follows these simple steps*
I am basing these steps on a standard full length porn, not brief clips or non-professional works.
Step One. 'Back story' Usually the porn will have some kind of back story to set the mood. Typically (almost traditionally) these back stories are weak and short, just enough to get the mood right. These people are not paid for acting skills, and certainly not paid to talk. I must point out that some back stories are very good, the best one I ever encountered was a very twisted take on Snow White with the funniest midget you could imagine (Keeel Hur! Keeeel Hur!). The only lessons we can learn from the back story is that roleplay can be a LOT of fun. Wear some goggles and pretend to be a mad scientist, or be a dashing hero rescuing a princess. Both the men and the women love this!
Step Two. The 'Dirty Talk' this stage is just before stage three, and involves one party or the other making suggestions for naughty deeds. This can be as subtle as a knife in the dark, or as blatant as a brick through a church window. However, there are important lessons to learn here. 1. Find out what kind of suggestive talk your partner likes, and use it to its fullest. Using the wrong bedside manner can totally ruin the moment. 2. Think before you talk. This goes for both men and women. When the hormones are rushing and the hips are gyrating, its hard to think straight, but the ears never turn off. One wrong word and the moment is over. 3. No means No. If she says no, even in a suggestive manner, STOP. Don't take the risk. Its better to ruin the mood then to spend several years in prison. 4. Some people don't like dirty talk. Don't use it if they don't want it. Elegance and compliments work just fine.
Step Three. Foreplay The one step that most porns get horribly wrong. While there are things you CAN learn from this, most of them are 'how not to' things. Typically the foreplay takes up ten seconds of groping or rubbing, and then they dive into one of the three methods of sex. Foreplay is almost non-existent. In those rare situations where foreplay is an active part, usually the porns are very long and tend to get boring after a while. These are the lessons we can learn. 1. Foreplay is far more important then most porns put fore ward, look at the articles for foreplay on this wiki. 2. Ignoring foreplay is possibly the stupidest thing you could do. 3. See lesson 2. 4. I suggest at least 30 minutes to an hour of foreplay!(unless the partner demands more then just foreplay.. and then we move on to…
Step Four. One of the three forms of Sex Here is where things get difficult, because usually sex has a theme, focusing around one type of sex, typically vaginal sex. Others focus on oral or anal. Some porns do all three. So i will separate them out into the most logical progression.
Oral sex. This is usually the only thing porns get right half the time. First of all, for the men, in porns the position they take is not designed for sex, it is designed to show off, whenever you get a good view of the action it means usually that one or the other is in an uncomfortable position to show it off. Read the wiki on oral sex for detailed info on it, but here is my piece of advice 1. Don't spit unless he/she wants you to. 2. Don't use teeth unless he/she wants you to. 3. don't do ANYTHING unless he/she wants you to.
Anal Sex. Alright, I personally have not experienced this, one way or another, so i can only speculate from other peoples accounts. First of all, its not for everyone, many believe its unsanitary and/or disgusting. If they don't want it, don't do it.
A lot of individuals take a lot of pleasure with the subject of anal sex. When done correctly, it is not only completely painless, and most couples enjoy this more than vaginal sex. You need Lube, patience, relaxation. What most porns dont show you is the foreplay before anal is even done. No pornstar bleeds, cries, or has other uncomfortable side effects attributed to anal sex.
Vaginal Sex. This is what most people really look for in sexual videos. Do remember that most positions taken aside from the standard missionary and doggy style positions are for easy viewing access. You could probably take a Kama Sutra and identify each position if you want. Also understand that the actors selected are hand picked for a level of stamina, which does not mean they are picked for 'doing the long haul'. Some men require a very long or very little amount of stimulation to climax, and the same goes for women. you also see them go through sex with all the makeup in place. Sex is one heck of an aerobic exercise, don't be surprised if your makeup smudges or you sweat off your deodorant Things we can learn 1. Vaginal sex is a very physically active activity, don't use porns to gauge your own experiences. 2. Be, like the actors, clean before sex. Shower, deodorant, brush teeth, all that stuff. trust me it helps. 3. Don't be discouraged if you can't go off. sometimes it takes time to release enough control to climax. 4. If you think something one of the actors does or wears during sex is hot, ask your partner if its ok, its not just about your partners pleasure, its also about yours.
5 myths perpetuated by the porn industry