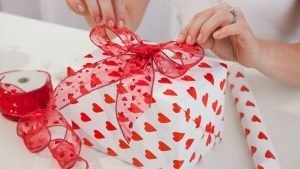 Valentines Day is an opportunity to celebrate your love for each other. Flowers and a card are nice but so unoriginal! Below you will find several valentine gift ideas to help create a special Valentines Day. I have hand picked some of my favorite and unique ideas for getting your valentine the perfect gift they will remember.
Key To My Heart Timeless Message offers a unique way to say "I love you" with their message in a bottle. You can select from messages created by extremely talented authors or you can customize your own romantic message. Timeless Message was actually voted "Most Romantic Gift" on Oprah! They have many special bottles to choose from as well as "The Key to My Heart featured" here.
Show them how romantic you can be with the Romantic Poetry Kit. Small word magnets you can put on your refrigerator, or any other metal surface, to create daily romantic messages for each other. It is the perfect gift that continues to put a smile on your face every day of the year well after Valentines Day.
The Bed of Roses has got to be one of my favorite valentine gifts. Who says you have to go all out and spend a ton of money to be romantic? This simple yet very romantic gift is perfect for saying "I love you" and making your valentine feel extra special. Simply light some candles have a bottle of wine ready and maybe a little music along with your Bed of Roses will certainly guarantee a romantic Valentines Day that might not let you out of the bedroom!
Of course, what woman doesn't like jewelry? Gemvara has something to match everyone's personal style. There is nothing like the feeling a woman gets when presented with a little box! Make her melt with something sparkly… (They GUARANTEE delivery by Valentine's Day!)
Discover Your Lover – A Sexy, Romantic Game These romantic games for lovers have been a huge hit! Discover each other in ways you never thought imaginable…
Ideas for him and her