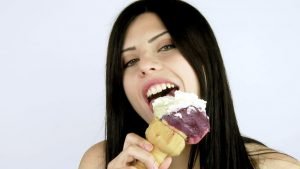 For the lucky ones, oral sex is just something that comes naturally. They can accommodate the greatest length and swallow – nay, gobble – huge amounts of love juices. But for the rest of womanhood, oral sex is an enormous difficulty that seems impossible to conquer. Fortunately, there are tips and tricks that can finally have fellatio added to your sexual repertoire.
Find the ideal position.
Right now, it's all about where you're most comfortable. Say all you want about oral sex skills, but nobody can deny that giving a man a blow job is hard work in all ways. It can mean death for your jaws, mouth, and knees, depending on how you're positioned. Maybe this is payback as well – since women take more time to climax during sexual intercourse – and it's why a lot of men seem to take longer than usual to reach climax during oral sex.
In any case, you need to find a sustainable position, preferably something that allows easy upper body and arm movement and one that could last you all the way to the finish line.
Use foreplay.
If you've been complaining how your guy never seems to understand the concept of foreplay then it's time to teach him by example. Give everything you've got during foreplay. By giving your spouse the best foreplay experience, you achieve a twofold objective: teach him how to return the favor and shorten the time and effort needed for oral sex and to reach climax.
Exercise your tongue.
Oral sex is probably one of the few times that your tongue could get a good exercise. When performing fellatio, it's just not enough to take your spouse inside your mouth. Something more must happen inside that to increase stimulation. Make your tongue move. Let it lick every inch of skin, swirl around and on top of the head, and make teasing movements all over.
Be careful with nibbling and sucking.
Most men like a bit of nibbling and sucking here and there but you have to be careful. The penis is a sensitive thing and while your teeth are far from a vampire's fangs, they're still sharp enough to hurt when you bite too hard.
Rhythm matters.
The role that rhythm plays in sex remains the same in all its aspects, whether it's full intercourse, a hand job, or fellatio that you're about to enjoy. You can start slow or fast, depending on the mood. But in "traditional" or "normal" circumstances, a slow start that gradually increases speed is ideal.
Don't let go.
Grip also matters. Men generally prefer a tight grip because it best resembles a tight vagina. Conversely, a loose grip is undesirable because it resembles a loose vagina and in which the pleasurable sensations derived from thrusting in and out is somewhat muted.
Don't ever stop.
Pay attention to the sounds and movements that your husband makes. Louder and frequent groaning as well as less controlled movements is a strong indication that your husband is nearing his happy place. This is your cue to maintain your speed and rhythm. Most importantly of all, don't stop until your husband finally ejaculates. Continue till the very last drop and voila! You have performed your first successful attempt at oral sex.
Oral Sex Lubesfor Success
Gag reflex is one of the most difficult obstacles to overcome when performing oral sex but you can reduce its frequency and intensity by using edible lubes.
Good Head Gel Sensual Kit from Doc Johnson
This gift from the good and reliable "doctor" comes in five luxuriously named flavors – sexy cinnamon, juicy passion fruit, wild cherry, sweet strawberry, and mystical mint – and you get all five in one great set. The one thing that sets this apart from other oral sex lubes – besides the sweet taste – is the icy, mint-like sensation your husband would feel when you apply the lube to his penis.
Wet Body Glide from Wet International
Like the aforementioned product, the Wet Body Glide also comes in five flavors – sweet cherry, passion fruit, wild blueberry, kiwi strawberry, and pina colada. You have to purchase them separately, though.
The pros: the bottles come with designer grips and the lubricants have an impressively all-natural taste. It's also quick and easy to clean up and you'll only need water and soap and everything is as good as new.
The cons: it can be a lot sticky so you need to be more resourceful than usual in order to avoid creating a huge mess during lovemaking.
Tingle Gel from Cal Exotics
This company really does seem have its finger on the adult market's pulse because it keeps coming out with all these great products that just makes sex better and better no matter what the situation. If Good Head boasts of a unique ice-like sensation when used, Cal Exotics' aptly named lubricant can send powerful tingles all over your body.
It is completely edible, which means it's safe to use for oral sex. But another great thing about the Tingle Gel is that you can also use it for other forms of sexual pleasure and for both sexes. Last but not the least, it contains a Stimulation Plus formula that ensures you can make love all night long.
Happy Penis Cream from Classic Erotica
You have four flavors to choose from: banana, cherry, mint, and pina colada. Classic Erotica is also particularly proud of its handy dandy packaging. Thanks to its self-sealing pop-up cap, there's no need to break the mood, wondering where the cap for the lube has gone. Users have also recommended the Happy Penis Cream for creating similar pleasure during self-masturbation and oral sex for women.
ID Juicy Lube from Westridge Laboratories
Your head's sure to spin when you find out that the ID Juicy Lube has not four, not five, but nine flavors all in all to offer. You've got the usual banana, pina colada, passion fruit, strawberry-kiwi, mint, and peach. But there are also new flavors like watermelon and vanilla! With this set, you can treat yourself with a new flavor each day.