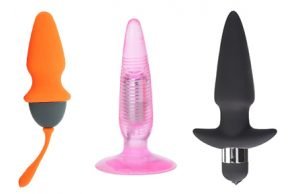 Remote control anal vibrators have been around for a long time – but why do women get to have all the fun? Finally there's a similar toy that men can use to be secretly sexual in public. (Okay, women – you can use it too if that's your thing).
Insert the plug and give the controller to your partner. Then go wherever the night may take you – dinner at a friend's, out to the club – only you and your partner will be aware of your sexy secret. Just master your poker face before heading out, or you'll give your game away when pleasure is written all over your face.
Pros:
Strong vibrations
Good distance with the remote control
Cons:
Base may too thick for some users
Batteries can be difficult to put in properly
Best Use: Both men or women who enjoy anal play will enjoy using this male sex toy. It can be a great toy used on your own by inserting the plug and changing the vibration modes while masturbating yourself manually or with another toy.
However, if you're up for getting a bit more wild, insert the plug and hand the controller over to your partner. Allowing them to be completely in control of the vibrations you're feeling will be a definite turn on for both of you. If you're really daring, keep the plug in when you leave the house or get together with friends –it's your little secret.
Material / Texture: This toy is made from a jelly material making is very flexible, but it can also pick up dirt and bacteria easily. Be sure that you're the only one using this toy – if not, use a condom with the toy every time. Water-based or silicone-based lubricant can be used with this material.
Price: Starting as low as $76.23
Design / Shape / Size: The tapered anal plug is 0.25 inches at the tip, and 1.25 inches at the base. The toy is 5 inches long with 4 inches of insertable length and a 3 inch secure T-base. The controller is just 2 inches long so it can easily be hidden in the palm of your hand, or in most pockets.
Functions / Performance / Controls: The controller is designed to work up to 25 feet from the toy. Variables such as sitting down, or objects or clothing covering the toy can reduce the control distance. There are 10 functions of vibration, escalation and pulsation to choose from. The toy uses 3 LR44 batteries.
Care & Maintenance: Thoroughly wash your anal plug in warm soapy water after each and every use. Wipe down the controller with a damp cloth if needed, but do not submerge. The jelly material can not be fully sterilized so use a condom or avoid sharing the toy with others.