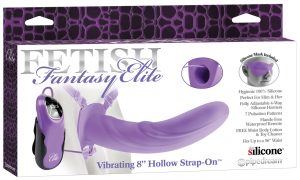 The Fetish Fantasy Elite Vibrating Hollow Strap-on can be used in so many ways, that essentially every couple should own one – gay or straight! Whether you need a strap-on for female/female intercourse, role reversal for men and women or used for men when they just need a break from the sensations on their own penis – the Hollow Strap-on clearly has many uses.
It's not just a dildo either – it vibrates too – increasing pleasure for both people involved. Vibrations are controlled by a remote control, and better yet – the entire thing is waterproof so you can take your play anywhere you wish.
Pros:
Quiet vibrator
Great for all types of couples and all types of play
Cons:
Girth of 2 inches may be too much for some users
Dildo is very firm
Best Use: This strap-on can be worn by a woman to use on her girlfriend or boyfriend. For couples interested in role reversal, let the female strap this on and she can use it anally on her man. Or, if a man tires of using his own member due to sensitivity or friction, he can put his penis inside the hollow shaft and keep going. Plus, the vibrations will help both partners climax quicker.
The Vibrating Hollow Strap-on can also be a lifesaver for men with ED (erectile dysfunction). Slip your penis inside to enjoy the excitement of pounding hard without worrying about losing your erection right in the heat of passion.
Material / Texture: Made out of a high quality silicone, the hollow shaft is smooth and flexible while still being firm enough to insert easily. It is also hypoallergenic and warms quickly to body temperature so you don't have to deal with any cold toys which are never fun. Comes with a free silicone mask.
Price: Starting as low as $73.69
Design / Shape / Size: The dildo is 2 inches across at its widest point, and 7 inches long – 6 inches of which are insertable. It is made of a light purple silicone material with matching purple harness. The vibrations controller can be clipped onto the straps for easy access during play. Harness fits up to 56 inch waist.
Functions / Performance / Controls: The Vibration Hollow Strap-on has 7 different modes of pulsation, controlled with two buttons on the attached controller. The vibrator is located in the tip of the dildo, and heightens sensations for both partners. It is completely waterproof so shower/water play is definitely recommended. The male sex toy uses 2-AAA batteries.
Care & Maintenance: After each use, be sure to wipe down the exposed areas with a warm cloth and soapy water and be sure the toy is completely dry before storing. For an even easier cleanup, use a condom on the shaft. Use only water-based lubricants with this toy.