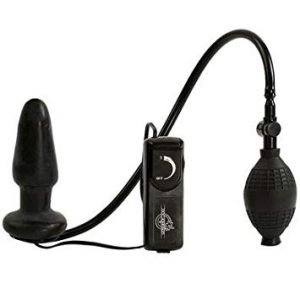 One of the benefits of being involved with me is that enevitably you will get to help me with my sex toy reviews. Just like anything, some are good and some are less than good. I am usually hopeful about all of them when they show up. When this one arrived, I had no doubts that it would be perfect.
Yes, vibrating and inflatable. Butt plug. Oh the possibilities right?
So last weekend after Sir and I got nice and cozy. We decided to give this a try. 2 AA batteries and me on my hands and knees with my ass in the air.
Now this is always an interesting predicament. I am all for anal sex and things in my ass, but there is always always ALWAYS a weird moment when, in good lighting, someone is looking down at my ass. It's never comfortable. I guess I look at too much porn where they take the camera and give that up close and personal view. ::shudders:: no thank you. However, I'm not given a lot of choice about how this is going to go, so I just do as I'm told and let him deal with the view. He doesn't mind.
He used some waterbased lube and inserted it slowly. It went it quite easy and comfortably. The insertable length was about 3″ which is longer than what I'm used to. It's widest point is about 5 inches around, 1.6 inches diameter but by the time it gets to the widest length, it's not very shocking. It's the 'standard' butt plug shape so it doesn't provide any g-spot stimulation (see photo below).
Once inside me, the vibration felt pretty nice. I can't be sure, but I think it's a regular silver bullet in there so the vibration gets pretty strong. Attached to the plug was the cord to the vibrator and a small hand pump to inflate the plug. So then Sir decided to inflate it a little.
Ok, so that was weird. He only did it a few pumps. You don't need much to feel… inflated. It was different than just feeling full. It was kind of cool. I could tell that it could be the cause of some sadistic play if he really wanted to be a bastard. I could still feel the vibrations at the base and Sir rubbed my cunt until I came hard all over his fingers. It was a unique feeling, the inflated plug in my ass with the vibration. The inflation makes the plug pliable, unlike other plugs. The insertable length was a bit longer than my other plugs and it was a decent size so even before the inflating, it was a pretty full size plug. It's hard to explain the inflation. It didn't add to the pleasure- but it just increased the intensity. I think if it was inflated too much, it might make me feel a little nauseated, to be honest. Just a few pumps was enough but I expect that over time I might get used to it.
If you have an anal plug that is curved (as if for male prostate pressure) it's the same place for gspot stimulation thru the vaginal wall. This njoy below is one that has a curve that will do that.
The Deluxe Wonder Plug is really a sadistic toy that might be effected for anal training or just some wicked ass play. The vibration is pleasurable and that filled ass feeling is both unique and potentially wicked. My Sir loved using it on me. Me? I really liked the vibration but the inflation is something I am going to need to get used to.