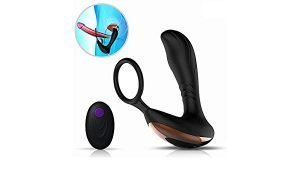 Prostate massage is something that a lot of men still don't know very much about. Even guys who are in the know about what a prostate toy is often don't realize just how varied their options for toys are. Even worse, most men don't really understand how or why they even work in the first place.
One common mistake that a lot of newbies to the world of prostate massage make is to assume that all anal masturbation toys are essentially the same deal. There are actually many different designs available for prostatic masturbators and different models can accomplish different things or be better fits for some guys than for others. Toys can range from very simplistic "beginner" models to more advanced types of toys that require some special techniques but yield amazing results.
If you're looking to buy your first anal sex tool, you may want to consider toys from the Mangasm line. Let's run through a few of the Mangasm toys, which will hopefully help you make the best choice for you.
The first toy on the list is the Mangasm Spark. The Spark is a slightly longer, thicker prostate toy that has a unique shape to it. The big focus for this toy is on the perineum (that is, the patch of skin between the butt and scrotum). This area acts as a sort of backdoor to the prostate, allowing for some extra indirect stimulation of the prostate. The Spark has a powerful vibration unit located right near the perineum, allowing for some nice extra stimulation.
Another toy worth considering is the Mangasm Flux. This toy is designed to combine the best elements of two different types of anal toys: the classic prostatic wand and the anal beads. If you're a fan of anal stimulation even without the prostate part, this toy may be the one for you as it splits its focus evenly between prostate stimulation and anal stimulation. The unique combination provides some unique stimulation that no other toy can pull off. Try pulling out the Flux at the height of your orgasm for an experience you won't soon forget.
The final toy covered here will be the Mangasm Voyager. This is another slightly larger toy – in fact it's one of the biggest prostate toys you'll find. The larger size as well as the powerful vibration unit attached to this toy can deliver some amazingly intense orgasms. If you're totally new to prostate play, you may want to stray away from this beast.
There are actually seven total toys in the Mangasm line – this is just a small sampling. Check out all of the options at jerking-off.org and you'll be sure to find a toy that is a great fit for your needs.