If your man hasn't experienced this before, bringing him to climax with a prostate orgasm is one of the greatest gifts a woman can bestow on her husband.
What You Should Know about Prostate Orgasm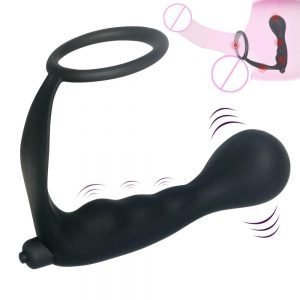 Prostate orgasm involves the release of semen or seminal fluid but without ejaculation. In some cases, medical professionals go as far as encouraging the application of prostate massages in order to provide relief for patients suffering from benign prostate hypertrophy (BPH), prostatitis, and other prostate disorders. Of course, there are also numerous cases in which men simply engage with masturbation or sex with the use of prostate sex toys.
Medically speaking, prostate orgasms – and orgasms in general as well – are considered as one of the more effective ways of reducing risk of incurring prostate disorders. Studies have shown that males in their twenties experiencing ejaculation at least six times a week are less likely to develop prostate problems.
Prostate massages and orgasms may also prove to be helpful for those suffering from prostate cancer. Caution, however, is advised as you would not want prostate massages to end up causing further damage to the patient's prostate. Gentle simulation is highly advised and, if possible, do seek out your doctor's approval prior to trying anything out.
Top Prostate Sex Toys for You
Manual prostate massages can be an intimidating and strange task that not everyone is immediately ready for. If you do not believe you have the skills to massage your husband's prostate then you should start out with a prostate sex toy. The best prostate toys are made of completely hygienic materials and with various features designed to stimulate pleasure when they come into contact with your husband's prostate.
Classix Prostate Stimulator
Having this sex toy in your possession can transform you into a sex goddess in an instant. The Classix Prostate Stimulator may just be four inches long but length is nothing when you consider its highly effective design and features.
The prostate stimulator has a ribbed texture that in itself causes exquisite pleasure whenever it brushes against your husband's inside. Its curved contours make the stimulator very user-friendly, providing a comfortable grip that lets you take control of the rhythm and speed as the stimulator slides in and out of your husband's rear. The contours will also prove to be a delight for your husband as they curve in the exact right places, easily reaching your husband's prostate while the handle even manages to provide stimulation for his perineum.
But the best feature of the Classix is its prostate nudging head. When you use the stimulator, you won't need to navigate your husband's insides with a map. The stimulator will do it for you as its head is designed to come into immediate contact with his prostate and provide stimulation.
All you need to do in your part is to use the best lube and find the sweet spot in his prostate to exert maximum pressure there.
Adam & Eve Perfect P-Spot Prostate Wand
Considering that Adam & Eve is one of the premier brands for adult products, it's no surprise that the company has also introduced the first glass plug in the market that's designed for prostate stimulation.
There are a lot of innovative and electrifying features that the P-Spot Prostate Wand has to offer. First off is its CyberGlass body, which instantly adjusts to body temperature. But if you want to add a bit of temperature play to your lovemaking, you can also warm or chill the P-Spot Prostate Wand and it will feel like you have a fiery or icy wand tickling your prostate and causing you to have multiple or prolonged orgasms. Finally, its CyberGlass body gives you a waterproof device that you can play with even in the comfort of your bathtub or in the luxury of your pool.
The Prostate Wand also comes with a highly convenient finger grip to ensure that you stay in total control and effectively pace your husband's pleasure to draw out the longest possible climax. Another pleasure-inducing feature is its angled bulb for easy prostate access and stimulation.
The P-Spot Prostate Wand is 3 and ¾ inches long, comes with a free storage bag, and is compatible with all types of lubricants.
Adam & Eve Pure P-Spot Prostate Wand
This toy is one notch higher than the Perfect P-Spot Prostate Wand discussed earlier. Besides all the features mentioned above, there are a few extra touches that have been added to provide users with the wildest sense of pleasure.
The Pure P-Spot Prostate Wand offers two heads: the smaller bulb is perfect for first-time users while a larger bulb is also provided for those wishing for greater thrills with backdoor play. This model has also been given an extended insertable length of five inches for those who want the steamiest challenges in bed. The width had also been increased to 1.75 inches at its greatest.
All prostate wands from Adam & Eve are made of superior quality glass materials. Cleaning up is a breeze as you only have to rinse your toy in soap and water.
Bottoms Up Silicone "Please My P-Spot"
If you feel that a glass toy proves to be too much for your novice sensibilities, you'll probably find the Bottoms Up prostate stimulator more to your tastes.
Although the Bottoms Up prostate stimulator offers a variety of beginner-friendly features, this doesn't mean it's entirely unsuitable for the more advanced users. Its 6"1 length doesn't disappoint and its battery-operated, 7x-speed vibration controls just make the toy all the more exciting.
As the Bottoms Up stimulator is silicon-based, you'll find the product quite easy to clean. Simply use a mild dish soap and rinse with warm water. It will be even a lot simpler to clean if you slip a condom over your stimulator. If you are going to lubricate your prostate stimulator, make sure to use a water-based product.
With any of these prostate sex toys, you can finally tickle your husband to a powerful orgasm.