What is a nipple clip?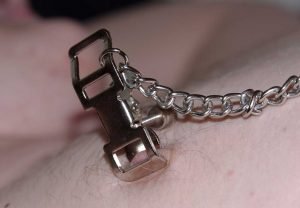 Nipple clips/clamps come in various designs. The main function of Nipple clamps is to arouse the wearer by stimulating the nipple via pinching pressure. While the color, size and shape vary greatly, the basic structure is the same. Most consist of a pair of clips (or screw-closed clamps) with the ability to hang a decorative chain between the two and/or add additional weights. Clamps can be worn singly or in pairs. For the "tougher" nipple, many heavier designs can be found at BDSM/Fetish shops, sometimes sporting crocodile clamps and the like.
How To Use Nipple Clips/Clamps: Just don't over do it.
In most cases you will want to make sure the nipples are erect, unless they are hard all the time. You can arouse them by twisting, pulling, sucking or just asking for help. No one could resist an invitation like that.
U-Shaped Clips:
Get the nipples nice and erect.
Open the clip slightly and slide in the erect nipple until its at the top of the "U" shaped piece of metal.
Tighten it slowly until the desired pinch is obtains.
Take care to retighten as your nipples get more used to the pinching. You might want to experiment wearing them a few times at home as you learn to adjust the tension. You will soon find out the appropriate tension that arouses you without hurting (too much).
Clips with Clasps:
Get the nipples nice and erect.
Open the clasp, position your nipple between the two jaws and release the clasps slowly.
These clasps aren't usually designed to be adjustable. Either get used to the pinch or work the jaws open and closed a few times trying to loosen the spring.
Vibrating clamps: you gotta try these things.
Special Types: Vibrating Nipple clips
These clips are even more exiting to wear. In most cases they are not as artificially designed as normal clips and due to battery and vibrator unit they have more weight, but that shouldn't stop you from trying them out. They grant you an even more thrilling experience.
Non piercing nipple clips and rings are the most common and you will want to start with them. If you decide to use piercing clips you should consult a trustworthy piercer as some health risks may arise.
Special Types: Japanese/clover clips
Probably for the more "advanced" users i.e. those into more pain. These have a stronger spring and put more pressure on the nipple. You can only make them clamp *more* tightly by pulling on the attached chain.
Autumn Herah talking about nipple clamps