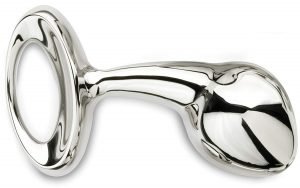 When you first look at the beautiful stainless steel toy you may feel just a little bit concerned. The first look will perhaps remind you of some form of surgical tool found in M.A.S.H. It has the look of something that may cause you pain, but the Njoy Plug Medium has nothing to with pain. It is all pleasure.
Made from grade 316 steel, it stands only 3.5 inches tool and gleaming, but only 2.5 inches will go inside the anus. There is no problem about worrying if the pleasure anal toy will go further, as it cannot . This is thanks to a wide base and a very smooth and clever "o" ring. This "O" ring allows you to keep a finger inside the "O" ring at all times. This allows you not only to maintain it in position, but gives you the security knowing that it is not going to slip past the anus muscle. Of course it never will, but not seeing the area during penetration can cause a little concern.
The Njoy Plug Medium is a very rigid product, obviously because of being made from stainless steel, and despite the steel it only weighs 200gms. But being rigid it will push against the prostate gland with ease, just decide before use if you like it at natural temperature, or would you prefer to warm it before insertion. Whatever you do, DO NOT use this product if it came from the freezer!
To imagine what it looks like, think back to when grandma had those oh so shiny silver serving spoons.
Well this serving spoon is very bulbous at the end, and that thick area at the end of the plug is where the prostate gland gets connected to, via the anal wall. No pain, just pure pleasure and excitement.
The Njoy Plug Medium is delivered in a beautiful case, similar to a presentation case you would get for a nice pair of cuff links, or perhaps a ring. It looks perfect situated in the presentation box, but it feels much better inserted into the fun cavity. If this does not get you climbing the walls with desire, tan perhaps you need to see a doctor as soon as possible.
Reviews
"The stainless steel is what actually made me buy this. I like to feel something that is truly firm inside me, I am not a lover of flexibility. I prefer to give my ass a great work out with the Njoy, especially as I know I have total control over this beautiful implement. I always prefer to warm it up in warm water, I find that helps ease the whole thing up inside me, right through the anal canal to hit the prostate." Adrian J, Manila, Philippines.
"Great fun guys. My first sex toy, and I am hooked." Graham H, Dover, UK.
"Worked like a treat on me. I have to say I got carried away the first few days and could not put it down." Nigel B, Denver, US