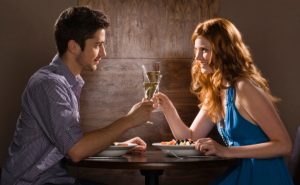 A first date is supposed to be a chance to get to know someone new, right? So why do people always choose to go the movie theater where they can't even talk to each other? Dinner or drinks afterwards allow for the conversation to get moving, but sitting there across from each other for a couple hours can really put the pressure on the conversation, and sometimes the silences can feel awkward. Instead, try taking your date to a place that inspires conversation and brings out the fun side in both of you.
Get to know each other with these fun activities
If you want to make sure there's no awkward silences on your first date, try these fun date ideas.
1. Partake in physical activity
Whether you join a cardio class, go indoor rock climbing, or even stop by a bar that offers free dance lessons, try to make it an activity that neither one of you particularly excel at. Showing that you're not afraid to give a new activity a try can be a real turn on, and you'll surely have a lot of laughs to share when the activity is over.
2. Take a cooking class
Most bigger cities have several locations, usually nightly, where you can sign up to learn a few dishes from a unique type of cuisine. Whether you fancy Italian, Thai, Spanish or French cuisine these classes will allow you to cook the meal together giving you some serious bonding time without having to focus too much on the conversation. By the time the meal is ready to eat, you'll both be comfortable with each other and conversation should flow.
3. Go bowling
Everyone loves a friendly game of bowling, right? For many people, bowling is an activity they probably have not done in years, and that old familiar bowling alley will bring up some memories of good times – and bring the 'kid' out in each of you. Put on the goofy looking shoes, tease your date a bit, and then enter into some friendly competition for an evening of fun and laughter.
4. Walk through the city
Go down to the main street of your city or town that has a host of shops, restaurants and pubs or bars. Pop into every shop you see, and browse around with your date, or vow to grab one beverage at the next 5 restaurants/bars you walk by – no matter what they are like. The constant changing of scenery helps give you and your date something to talk about, while getting a glimpse at their personality.
5. Go for a hike
Hiking is a great way to show your date that you don't mind getting a little dirty and getting outside. Plus, the beautiful scenery (and wild animals if you're lucky) will give you great conversation starters. Bring a small picnic so you can stop and eat when you find a beautiful place with a great view.
6. Do something seasonal
Seasonal activities are an excellent idea, because the fact that you can't do it year-round makes the date really memorable. Try going to a haunted house near Halloween, apple picking in the Autumn, spend the day at a harvest festival or go ice skating.
7. Go to the amusement park
Amusement parks get the adrenaline rushing and the laughter started. Spending your time between exciting rides and chatting in line allows you to break up the one-on-one time if you're feeling a lull in the conversation. However, with all the interesting people you're sure to see, and the fun rides and games you'll play – you shouldn't run out of anything to say, and it will be a great way to bring out the fun side in each other. If you don't have an amusement park nearby, go to a carnival if you're in town. The rides are smaller, but you may even have more fun.
8. Hit a few at the driving range
If you're both decent golfers, this will inspire a bit of friendly competition. If you're a terrible golfer, the fact that you're up for this activity will show your date that you don' t mind looking vulnerable and/or a bit goofy. Plus, having him help you perfect your shot could be a real intimate way to get to know each other.