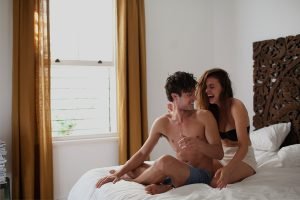 Having friends with benefits is possible but what exactly does that mean? I'm not even sure I would call them friends, really; they are kind of in between a friend and a booty call. A friend is someone you talk to on a regular basis, share problems and joys with, get advice from and give advice to.
A friend is someone who is going to be there for the long hall. On the other side of the spectrum a booty call is much harsher. There is no conversation, no caring (of course you wouldn't want to see them get hit by a MAC truck, but that's about the extent of it) just pure unadulterated sex with someone you can kick out when your done.
Even though most people to this day do not understand, there are more individuals out there than you would think who don't want the hassles of being in a committed relationship, nor do they have the time. Sometimes a person has just been in so many bad relationships, they want the respectable intimacy of being with someone but they want to skip out on all the obligations of dating someone, the arguments, and the jealousy. More importantly they certainly want something more respectful and comfortable than a booty call.
Friends with benefits are people with whom you share an intense sexual attraction. You're able to call each other once in a while to exchange all the pleasurable benefits without the possibility of tying each other down. There is no commitment; you get together when you can. Remember, you are not dating this person.
Maybe you go out for drinks once in a while but there's no treating each other to an elaborate dinner, no meeting the family. There's no "Let's go see that new movie!" No… You don't really talk about your "relationship"; other people usually don't know about it. You must be discreet and respect each others space. You both make up the rules and both of you follow them accordingly.
Friends with benefits NEVER get emotionally involved. This doesn't mean you don't care about each other (more so than the booty call) but you never call to cry on each others shoulder and share your problems as you would a real friend. You have a mutual respect for one another; a certain admiration for being open and honest and realizing that it is what it is. You're both mature consenting adults getting together for a little enjoyment and sexual gratification; nothing more, nothing less.
You both understand that you see and do who you want when you want and you never answer to the other. Most importantly, when the time comes (if it ever does) that one of you happens to meet that special someone, then the benefits cease to exist (and there is no COBRA to protect you through your transition). You simply let the other know that it was fun while it lasted. You become mere acquaintances who were once "friends" but that's ok because the two of you knew going into this that it was a temporary gig and it's time to respectfully move on.
What are the rules for friends with benefits