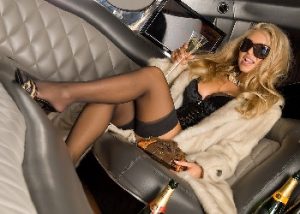 Typically, an escort agency provides the social services of an attractive female to an individual that seeks companionship charged at an hourly rate. While some agencies also have male escorts the vast majority of employees are female and usually under the age of 25, although there are agencies that also cater to niches, such as mature (30 years and older) or male escorts.
Legality
A photo of a working escort with her face blurred out to protect her privacy. While prostitution is nearly always linked with these agencies, it is important to note that any additional interaction between the client and the escort is up to the sole discretion of the escort herself, thus removing the legal snafu that the agency could find itself in if it operates in a region where the procurement of sexual services is illegal. Understand that if you are to work for a top escort agency you should do your research. Speaking with other escorts or the manager that work for the agency should remove any questions you may have about what may be expected between you and a client.
Getting Hired
Agencies are constantly seeking to hire new escorts. A quick scan in the help wanted section of your local newspaper should provide you with more than a few ads from agencies looking for new blood. You should be attractive, well-groomed and maintain an above-average outward appearance; the better in shape or the more sex appeal to ooze, the greater the chance that you will be hired plus stand to earn additional money in your working career as an escort.
Call a couple of agencies and ask to speak to the manager. Most likely they will want to meet you in person. Dress and present yourself as if you are going on a date; after all, you want your potential employer to see you exactly the way that a client would when he answers his door. If you pass this phase of the interview, you are nearly certain to be hired. Nevertheless, top escorts can charge bigger fees by also having exquisite social manners, good conversation skills, a keen intellect and an flirtatious, friendly personality. You are not just selling a physical fantasy to your client but also a mental one! Some clients will pay top dollar to have a beautiful, educated woman with them for a night out on the town which may include dinner at a five-star restaurant, a show at the theater and cocktails at an exclusive nightclub. The more sensual, refined and exotic you are as an escort, the greater the likelihood of you being in constant demand – and having pay you top dollar for your company!
Additionally you can set your own working days and times but the weekend evenings are almost always the busiest times for an agency and when they need escorts to be available. Some escorts do make themselves available during business hours and have developed a regular clientele base, freeing up their evenings. Some escorts don't work past midnight; others work until the sun comes up. Determining your schedule and the hours/days that you work will ultimately depend on you but once you tell your agency what your hours are don't forget or not show up for work. Escorting is just as much a real job as any other steady form of employment and not showing up to work will get you fired just as fast as anywhere else!
A Typical Call
Your agency may or may not require you to be on the premises when you're on call. When you are booked by a client you will be expected to show up at their resident (a private home or hotel) and not be distracted or disshelved in appearance. Upon being invited into the client's room you will make contact with your agency, confirming your arrival and the time your booking will be over.
You should shake the hand of your client and exude a bubbly, cheerful demeanor. After phoning your agency to confirm your arrival, spend a few moments engaged in small talk. Your client may be nervous so put his mind at ease! After breaking the ice, ask him what kind of fun he was thinking of having with you this evening. This is where you will learn what is required of you. Don't be afraid to ask for clarification from the client but also remember that you may have to guide them along too. After listening closely to your client you should have an idea as to what kind of gratuity to ask from your client. This should always be paid for in cash, up-front and immediately after the initial discussion with no exceptions.
When it is close to the ending time scheduled with your agency remind your client – they may want to extend the time that they spend with you. If so, call the agency and inform them of the new time. If your client is done with your services you may freshen up and gather your belongings. Thank your client for choosing to spend their time with you and give them a hug or kiss on their cheek to say goodbye. Leave them with a smile on their face and you're on the way to becoming a successful escort!
How Much You Should Expect to Get Paid
Escorting can earn you big bucks. As is the case with the majority of escort agencies, the agency facilitates the connection between the escort and the client, charging either a flat fee or receiving a portion of the hourly cost of the escort. An agency will still hire escorts with no prior experience if they are attractive and enthusiastic, thus allowing you to learn the in and outs while still earning decent money. Wages depend on where you work as an escort but typically escort agencies that earn their fees from the client's credit card take about $75-150 per hour. From that the escort may receive half of the rate charged by the agency. Once at the job, additional time and services can be negotiated between the escort and the client. Typically, an escort starting out should expect to make somewhere between $150-250 per hour depending on what kind of expectations the client has of the escorts, with a "girlfriend experience" always commanding the top rate. An escort can charge more as she builds her client base and specializes in her services, such as domination fantasies, role-playing, costumes and so on. Top escorts can charge $400, $500, even more per hour depending on what kind of kinks and how fulfilling of an experience it is for the client.
On top of these figures there are "tips" or gifts. While it should not be expected, some clients take satisfaction in giving an additional gift of cash at the conclusion of the job. This is usually given because the escort went beyond the expectations of the client, turning the encounter into a extremely pleasurable and memorable experience. As well some escorts are asked by regular clients what kind of gift they would like to have the next time they meet. You should think about what you would say if a client asked you what is your favorite brand of lingerie, shoes, perfume, clothing, jewelry, chocolate, music, bath and pampering products, flowers or makeup. With some clients money is no object and they want to be remembered as a man that will pamper your every need and desire. In return these gentlemen will expect to have many more experiences with you.
On average an escort that works 3-5 days a week can expect to earn anywhere between $60,000 to $120,000 a year – even higher if the escort is in demand. Top level escorts found at exclusive agencies can earn as much as $250,000 a year.
Safety
After arriving at your client's location you should always call your agency. This serves two important purposes: to inform the agency how much they will make and to ensure your safety with the client during the time you spend with them. A threatening situation is very rare in the escort profession as normally the client has far more to lose from the encounter since they've given their credit card information and a location where they can be found. In some cases an escort works with a driver who physically waits downstairs in the hotel lobby or outside in a car, adding another layer of protection.
Look around the room; if you sense anything unusual or odd, call things off and end the job. While the chances of something bad happening are extremely low due to the support mechanism of the agency and a driver, any reputable agency will always back with an escort if they feel the need to end a session early. It may simply be a case that the client is intoxicated, expects additional services from you that were not discussed on the phone or is rude to you. Always remember that you are the one in charge and thus command the power in the situation. Remember to carry a cell phone to always remain in contact with your agency or driver, and carrying a can of pepper spray or mace just in case is always a good idea. Escorts can work for their entire career and never encounter a dangerous situation but added protection never hurts to have.
Clothing and Equipment
An escort should have a wide selection of clothing in her repertoire. Having several selections of business suits, cocktail dresses, sexy street clothing, high heels and one or two formal dresses is mandatory. You should also have a wider selection of sexy undergarments such as stockings, garter belts, thong underwear, colorful bras and underwear, babydolls and some gowns. Some clients may ask if you have clothing or lingerie of a more exotic nature such as feather boas, thigh-high boots or costumes (such as a french maid's outfit). Additionally you should also start to purchase a collection of adult toys that you can use such as ben-wa balls, dildos, vibrator and sensual lotions. Some escorts expand further and cater to clients that like them to use riding crops, strap-on dildos, jellys, clit rings, handcuffs (always to be used on the client, never yourself), anal beads, butt plugs and other sex toys. The more that you cater to any kind of request from a client, the more money you can earn – but always remember that you never have to do something that you don't want to do. Every escort is different and has her own list of dos and don'ts, and a good guideline is to not do something unless you feel it's something you would try outside of your job. For example, some escorts choose not to kiss their clients. You should always be up front with a potential client when speaking with them or with your agency. Don't worry about missing out on a client here and there because there are always more that are looking for the services you provide.
Working With Other Escorts
Sometimes a client may ask for the services of more than one escort. If this is the case and you have no issues with the request you can charge an additional rate, typically 50-100% of the cost of your services solo.
Try to make friends with the other escorts working for the agency. Most escorts are willing to share tips and offer advice to those just starting out in the profession. Always treat them as friends and don't give in to the temptation to gossip or talk behind another escort's back. Treat them just as you would any co-worker at an office job and you will be treated back with the same respect.
Working as an Independent Escort
After gaining experience working as an escort you may decide to continue your career without the services of an escort agency. While this means that you stand to earn more money by removing the fee that the agency charges, also bear in mind that you will also have to promote yourself. If you have established a steady stream of regular clients then it may be easier to make the leap to becoming an independent escort but should your regulars move on or just simply not need escorting services anymore you will need to make up for lose income. You should consider taking out your own ad in a local paper that features other escorts; look around to see what is published in your area and what the costs are for weekly or monthly ads.
The internet has allowed many escorts to launch their own websites, allowing clients the opportunity to see in advance what the escort looks like from photos on her website. Look at some of the websites for escorts found on the internet and then make inquiries to local website development companies about constructing and hosting your own site. A typical escort website should cost between $500-1000 including programming and set-up fees. Costs for photo portfolios should be between $200-1000, with the higher end offering a greater selection of photos in multiple settings and clothing styles. You will also discover that having an online presence opens the doors for international clients to request your services. It is not unusual for escorts to be flown to a client's home country for a day, weekend or even longer. Look around and see what other escorts are charging for this kind of extended travel but typically expect to ask $2000 per day for your time. Traveling expenses such as airfare, hotel accommodations, food and any special clothing should always be paid for by the client.
Finally, you may also look into your local Craigslist website. Many escorts advertise their services under the exotic services section. It's free! Good luck and may your career as an escort be successful and rewarding!