After you have become familiar with the basics of using a prostate stimulator, you are likely to want to move on to a bit more of an advanced approach. Thankfully, there are a number of innovations taking place in the market that will allow you to take your prostate play to the next level of pleasure.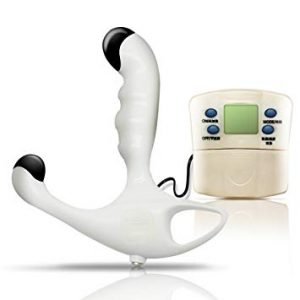 In this article, you will learn the following:
1. Advanced prostate stimulation methods using electrical pulses
2. Prostate stimulation through vibrations
3. Prostate and Perineum Stimulation
First, understand that prostate stimulation through electrical pulses has been around for some time. The technique is actually used in many different sperm banks around the world. It provides one of the most intense prostate stimulation experiences, as well as a quick orgasm. There is a toy known as the Electro that will stimulate your prostate gland with mild electrical pulses. The process is very different from manual forms of stimulation, and can result in orgasms that produce staggering amounts of fluid during the ejaculation.
This toy includes a small controller that can essentially program the toy to deliver the types of stimulation you want. There are few other toys like it on the market, and having access to your own can really enhance the experience you are looking for.
A stimulator that works with vibrations is similar to those using electrical impulses, but it is not quite as advanced. Having one of these toys helps to stimulate the prostate through manual pressure, as well as the micro-stimulation that takes place through the buzzing of the toy. These toys will generally provide a control mechanism to allow you to cycle through various levels of intensity. It is recommended that you start on a lower setting for your first experience. When doing so, your prostate stimulation will be different than the normal, manual techniques you have become used to. Working with one of these toys can be fun and exciting and add a new level of experience to your prostate play.
Perineum stimulation is a method of prostate stimulation that takes place from outside of the body. This area is also referred to as the taint, or the chode. You can easily find it with your fingers by reaching underneath the scrotum and pressing on the area just above the anus. The experienced prostate stimulator will recognize the feeling almost immediately. There are many toys that stimulate the prostate from inside while also massaging this area. Most of the toys that we recommend have this type of stimulation built in. There are several toys that are designed with this type of stimulation in mind, though, and these are some of the best experiences you could ask for.
The author's favorite is the mangasm Spark. This toy has seven stimulating prongs on the base of the toy that stimulate the perineum in a very effective manner. When you first use one of these toys you will be surprised at the level of stimulation you experience. Combining internal prostate stimulation with external perineum stimulation will result in a more forceful orgasm, as it mildly restricts the passageway through which the seminal fluid evacuates the prostate. This, in turn, results in a longer orgasm with much more "distance" to the "shot."
Experience with any of these toys is recommended for those who have already moved through the beginning stages of prostate toy play. If you have not yet tried using a basic toy, start with something simpler, like the Alpha or the Rush. Either of these toys will allow you to become familiar with your prostate stimulator before moving on to advanced methods of stimulation.