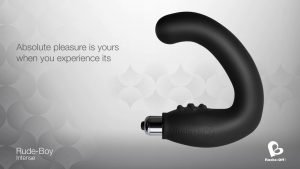 It's a wonderful day when male prostate stimulators are becoming more accepted by people in general, and why shouldn't they be? They feel amazing. Any man who hasn't experienced an orgasm with a prostate massager is seriously missing out.
The Rude Boy Prostate Vibrator combines prostate and perineum (area around the anal hole) stimulation to ensure pleasure that's out of this world. The vibrations accompany the pressure and you're sure to find yourself in a long, intense orgasm. For anyone who is sceptical of anal play, it's time to turn your life around and see what you've been missing.
Pros:
Hits the male g-spot exactly
Helps deliver intense, long-lasting orgasms
Cons:
Doesn't stay in place
Size may be daunting for beginners at first glance, but it's actually okay
Best Use: Since the Rude Boy Prostate Vibrator is designed for both prostate and perineum stimulation, one of the best ways to use the toy is to insert the shaft into the anus, and sit upright allowing the perineum vibrator to work it's magic.
A slight bouncing up and down motion will engage the prostate, and you can masturbate yourself at the same time. Even better – have your wife or partner mount you and see how long you can last – probably not very long. With its small but efficient shape, the Rude Boy is great for solo or couple play.
Material / Texture: Made out of a high-grade silicone, the Rude Boy is hypo-allergenic (latex-free), soft and smooth to the touch, and flexible to deliver the utmost comfort when inserted. It is also free of any seams or other bumps that may lead to discomfort when using the male sex toy.
Price: Starting as low as $45.99
Design / Shape / Size: The Rude Boy comes in your choice of colors – royal blue or black. With a 1 inch diameter, it may seem large for those who are not experienced with anal play, but lots of lube will ease it in, and you'll definitely be rewarded when all 6 inches are inserted.
Functions / Performance / Controls: Because the toy vibrates, batteries are required but the product comes with the first set. The vibrations are fairly intense. However, without holding the toy in place or sitting on it – it seems to rotate out of position. It seems to be a slight design flaw in an otherwise great product.
Care & Maintenance: Cleaning the product is easy, as silicone is a durable material. Just remove the bullet vibe and wash the toy in a warm bath of soapy water. Let it dry completely before reinserting the vibrator and storing the toy. Also be sure to use a water-based lubricant (not silicone-based) when using this toy.