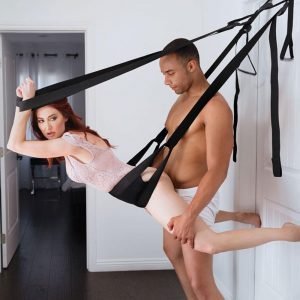 There's no need to wait for old age before trying out toys and accessories to make your sex life better. Sex slings, pillows, and other kinds of support are not just there to make sex possible. They've been designed to enhance both foreplay and intercourse and who wouldn't want more of that? Yes, they sound kinky, but again who in his or her right mind would complain about adding a little more kinkiness in the bedroom?
First of all, get ready to be more limber and flexible than usual. These toys will help you stretch out and try new, unique, and enjoyable positions and techniques in sex, but it can't do all the work alone. You have to do your part and that's to increase your range of movement. Possibly, at the start, some bits would feel uncomfortable and awkward to try, but what's a little pain when a night of pleasure is offered in exchanged?
These toys are also great to use if you want to reignite the spark in an ill-used marital bed. Work and life in general has a way of eroding people's relationships and feelings for each other, but that doesn't mean you can't do anything about it. Use these toys to show that you care enough about your marriage to make things work better than before.
Recommended Products for Sex Play
The products listed below have come greatly recommended by numerous users. These are products that can turn your sex lives around completely.
Super Sex Sling
There's nothing to be afraid of about sex slings. They don't have to be uncomfortable to use as long as high-quality materials and an ergonomic design are used and such is the case with the beginner-friendly Super Sex Sling.
The Super Sex Sling is made of extremely soft fabric to provide a very comfortable support for the user while testing out new positions and unique places to enjoy lovemaking. Nylon of extremely durable quality as well is used, on the other hand, to provide security – move any way you want and for any length of time without having to worry about how long this sex sling is going to hold you.
The sex sling comes with an ergonomically designed neck brace which you can either wear around or place it behind or in front you, whichever the position requires. It provides critical neck support and allows you to concentrate more on giving and receiving pleasure.
The brace is directly attached to a pair of plastic buckles. Use these buckles to adjust the length of the sling's pull straps and ankle cuffs. Again, you don't have to worry about any possible discomfort with the cuffs since they're made of the same soft fabric used for the entire sex sling. They also come with Velcro snaps, making them easy to secure but also easy to remove if you require an emergency stop to your BDSM play.
The Sex Sling is fairly easy to use. Just pull on the straps if you want to reduce the slack between your neck brace and ankles as well as lifting your legs as high as necessary. The Sex Sling is also well-recommended for clitoral stimulation. Last but not the least, it comes with a DVD and instruction book to ensure that all users can take full advantage of its many features and benefits.
Most – if not all – surveys show that women have the greatest love for the doggie style position as the unique setup increases the likelihood of orgasm. Men have nothing to complain about the position as well so using the doggie style is always a win-win situation. And now, it can be even more enjoyable when you use I Like It Doggie Style Restraints.
The restraints are made of padded nylon to provide both security and comfort at the same time. The strap is placed underneath your hips to reduce friction and increase movement when doing it doggie-style. You'll notice that the strap has a pair of nylon extensions; they serve as hand openings and which your partner can use to improve his mobility and provide him with greater control of your movement and rhythm.
But that's not all that your new restraints can do. Once the strap is in place, it also helps create more powerful vaginal stimulation as well as offering deeper penetration, which results to a better sexual experience overall for both partners.
Liberator Wedge Ramp Combo Position Pillow from Liberator Bedroom Adventure Gear
Sometimes, great sex requires great sacrifice in terms of muscle use and this could lead to all sorts of pains and aches afterwards. But you don't have to worry about that anymore when you make use of the sex pillow from Liberator Bedroom Adventure Gear.
Once you put your pillowed wedge and ramp in place, you'll be pleasurably stunned to realize that the pillows are actually doing all the work for you by reducing the stress and burden on your body as you try all sorts of new techniques and positions.
The great thing about this set is that you can arrange the Ramp and Wedge in various formations in order to accommodate the position you want to try. You can use it to cushion your neck, give your hips an additional boost, or provide support for the spine while you attempt a few back-bending moves.
If you need additional help, the set comes with a booklet offering instructions on various positions in full-blown color and detail. Pillow covers are easy to clean and store, thus making them perfect travel buddies as well.
Suction Handcuffs
And to round up our list, check out this amazing pair of suction handcuffs. Made of black neoprene, these handcuffs have powerful suction cups that you can use to secure your partner to just about all kinds of places and surfaces, from the Jacuzzi to the full-length mirror in the living room to the coffee table on the kitchen. With these handcuffs, you can play cops and robbers anytime anywhere so make sure you keep them in your pockets all the time.