Editor's Pick
Autoblow A.I.

Artificial Intelligence

100% Silicone Sleeves

Sleeves Can Be Changed

Great Beginner's Toy

Hand Free

Easy To Clean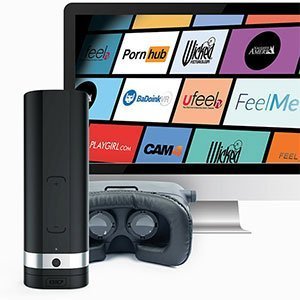 Kiiroo Onyx 2

Hands Free

USB Rechargeable

Sliding Scale Of Speed

Sleeves can be changed

Elegant And Discreet

Easy To Clean
Autoblow 2+ XT

100% Hands Free

No Batteries Needed

Industrial Strength Motor

Interchangeable Sleeves

Realistic Artificial Skin Material

Sleeves Are Easy To Clean
If sex furniture has been missing from your life, then the inflatable bondage chair could be just the answer. It's the perfect versatile love seat, allowing for a bit of bondage and a whole lot of sexy positions. It comes with Velcro restrainers so that once your lover submits to the seat, you've got them just where you want them. There are six restraints in total to bind your lover and have your own wicked way. With this chair you can tempt, tease, or simply pleasure and please. Just so that you are comfortable, it come with a head rest and back rest and the chair is made of a sturdy PVC material to take the rough and tumble of the games people play – but just in case things get a little tough rough and the chair deflates, there's even a puncture repair kit.
That's the good news. But on Jerking Off.org we like to give balanced reporting, so if you try giving the Inflatable Bondage Chair to a confirmed BDSM enthusiast you'll find they they think differently. Very differently:
Material:
Realism:
Easiness of cleaning:
Price:
In what way is this chair "versatile"? You can strap someone into it in a normal sitting position. If you tried to put the person into some other position (rump up?) the chair would probably tip over. The chair seems patently incompatible with heavy S&M, acupuncture, knife play, spike heels, and most species of bestiality. Also, regarding the picture on the box – if you strap a woman into a chair before removing her one-piece leotard, you are too stupid to fuck.
Oh dear, well if you are not into BDSM and you just want to have some laughs with your lover the inflatable bondage chair could be just the hot seat you have been looking for. And think about it, PVC cleans with just the wipe of a damp cloth!
The Inflatable Bondage Chair is available on the net at $35.95.
Customers Opinion/Feedbacks
Jimmy – This great inflatable bondage chair is just so much fun I don't know where to begin. If you are into fetishes and want to take things to the next level, I would definitely recommend this!
Ahmed – Okay, I must admit I was a little sceptical at first. I was having problems with my girlfriend, so I got her drunk and restrained her in this chair. The result: 3 hours of intense sex and a more stable and stronger relationship.