Editor's Pick
Autoblow A.I.

Artificial Intelligence

100% Silicone Sleeves

Sleeves Can Be Changed

Great Beginner's Toy

Hand Free

Easy To Clean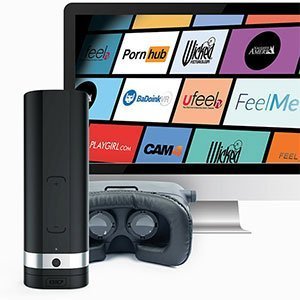 Kiiroo Onyx 2

Hands Free

USB Rechargeable

Sliding Scale Of Speed

Sleeves can be changed

Elegant And Discreet

Easy To Clean
Autoblow 2+ XT

100% Hands Free

No Batteries Needed

Industrial Strength Motor

Interchangeable Sleeves

Realistic Artificial Skin Material

Sleeves Are Easy To Clean
What's particularly clever and appealing about this cock ring is that it combines the low tech simplicity and ease of use of leather with studs, coupled with a powerful high tech vibrating bullet. You don't have to fiddle around to fit it on your cock. You just wrap the leather round and use the stud that fits you the most snugly.
This cock ring is made by Spartacus Enterprises, who are passionate about everything they do, their specialist area of focus is in the BDSM market. Starting with product design, quality materials, and trained craftspeople, everything they manufacture keeping is proudly USA-based, keeping the American manufacturing tradition alive. Spartacus has been steadily expanding on its product line since 1987, when they started out as a small, family based manufacturing company. From making nipple clamps in the basement of their Portland, Oregon store, Spartacus has grown to become a name known the world over as a leader in high quality BDSM gear.
The Vibrating Leather Cock Ring is no exception. Unlike many cock rings, the extra quality that goes into a Spartacus Enterprises cock ring means there is a soft suede inner lining that makes the cock ring comfortable to wear, and most importantly, means it does not constantly slip and slide like it would rather be anywhere but on your cock.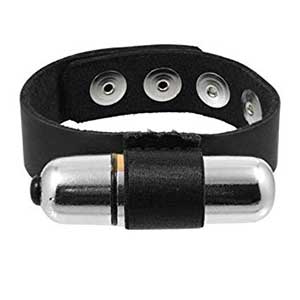 Material:
Realism:
Easiness of cleaning:
Price:
With two top snaps and four bottom snaps, the ring is very adjustable, comfortably fitting girths of 5″ to 8″ (diameters of about 1.5″ to 2.5″).
Once it's on nicely, securely and comfortably, attach the vibrating adjustable speed bullet in the specially designed sheath and feel the vibes as they ripple powerfully across the full length of your cock. Speaking of ripple, the bullet is fully waterproof and can be usend in the bath or shower too. The Vibrating Leather Cock Ring can be used for solo play or ofcourse with your partner to enhance the whole fun and games of a sex session, with the vibes being passed on during intercourse. So, just strap on this cock ring, relax with a glass of red wine, and hit the hot tub. Sex while wearing this cock ring is amazing. You can even wear this cock ring without the vibrator. It's good both ways, because the cock ring itself make will you harder and keep erection longer. Price is around $19.99.
Customers Opinion/Feedbacks
Devyn – I was pretty anxious to get this new toy. My idea was to surprise my husband with something new and exciting. The very same day it came, I could hardly wait for him to open the box and see that it is a toy for him and not one for me.
Dion – I really love this cock ring, the vibrator on it is nice and the toy comes with extra batteries. Since I have bought a lot of batteries and have a lot of time, maybe I can figure a way to enjoy this cock ring with my husband on a different level. Thanks!