Editor's Pick
Autoblow A.I.

Artificial Intelligence

100% Silicone Sleeves

Sleeves Can Be Changed

Great Beginner's Toy

Hand Free

Easy To Clean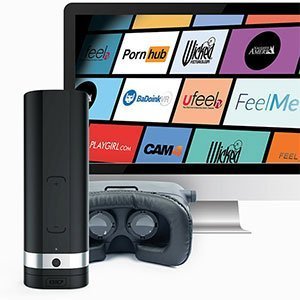 Kiiroo Onyx 2

Hands Free

USB Rechargeable

Sliding Scale Of Speed

Sleeves can be changed

Elegant And Discreet

Easy To Clean
Autoblow 2+ XT

100% Hands Free

No Batteries Needed

Industrial Strength Motor

Interchangeable Sleeves

Realistic Artificial Skin Material

Sleeves Are Easy To Clean
If for you kinky is slinky, then the Candy Apple Kink Kit could be a lot of fun. The kit comprises the Candy Apple Wrist Restraints, the Candy Apple Blindfold and the Candy Apple Paddle.
The Candy Apple Kink Kit is clearly a game that two people can play, and play in style. The idea is first you restrain the willing victim, who is then blindfolded and given a thorough spanking by an unknown disciplinarian. Well ok, they will probably guess it's you, but still, you could play clever and get someone else to do it, they'll never know once that blindfold is on, and with the restraints in place there's not a whole lot they can do about it either!
The Candy Apple Wrist Restraints have sturdy adjustable buckles with non-slip comfort; an O-ring on each restraint allows for easy use to link up to cuff connectors and lets you explore all kinds of exciting restraint possibilities. Multiple silver rivets and heavy-duty construction ensure you'll be tied to these restraints for years to come.
Material:
Realism:
Easiness of cleaning:
Price:
The Candy Apple Blindfold is rendered from hot and sexy patent red leather, the blindfold is cut in a cute cat eye shape to accentuate its femininity. The faux fur padding protects the wearer's eyes in comfort and creates a total black out effect to add mystery and guesswork to the role play. If you're going to be blindfold, do it in the best of style.
The Candy Apple Paddle will ensure that someone naughty is going to get a thorough spanking. It has eight cut-out circles to decrease wind resistance and increase momentum, so that by the time the paddle meets the buttocks, there will be a loud and deeply satisfying 'thwack', not to mention the delicious sight of a bare bottom slowly turning as red as the red patent leather of the paddle!
The complete Candy Apple Kink Kit is $100, which actually saves $32 if you were to buy the items individually.
Customers Opinion/Feedbacks
Adrian – I like shiny and red and I wanted this kit so bad. It looks and feels like everything you need, to have a great time playing with sensation and sensory deprivation. Great toy!
Jefferson – I must admit I am really impressed at the super high quality this product is. The red patent is so shiny and sexy I couldn't resist the indulgence. This is the best way to take things to the next level!