Editor's Pick
Autoblow A.I.

Artificial Intelligence

100% Silicone Sleeves

Sleeves Can Be Changed

Great Beginner's Toy

Hand Free

Easy To Clean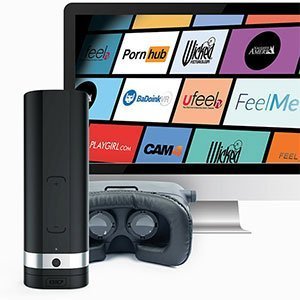 Kiiroo Onyx 2

Hands Free

USB Rechargeable

Sliding Scale Of Speed

Sleeves can be changed

Elegant And Discreet

Easy To Clean
Autoblow 2+ XT

100% Hands Free

No Batteries Needed

Industrial Strength Motor

Interchangeable Sleeves

Realistic Artificial Skin Material

Sleeves Are Easy To Clean
Swedish firm Lelo make some of the world's most exclusive sex toys for both men and women. The Lelo Bo's place in sex toy history is already assured as it has marked a new trend in the development of high quality designer sex toys for the discerning gentleman at leisure.
The Lelo Bo is the world's first rechargeable pleasure or cock ring designed to accommodate men of all girths. It's easy and highly pleasurable to use.
First, you charge up the charger on the mains. Allow around two hours for this to ensure it is fully charged and primed to go. Then, after sliding the charger into place on the cock ring, it will immediately start vibrating. Now simply slide the ultra stretchy skin safe device over your penis and instantly feel the intense sensations.
In fact the Lelo Bo can be equally pleasurable for your partner, because its energetic and vigorous vibrations create powerful sensations for the man which are also passed on to the woman during lovemaking.
Material:
Realism:
Easiness of cleaning:
Price:
The device is made from a soft, highly flexible skin safe plastic and silicone material and, being a product of quality, is built for the long term. Once applied and the vibration control is switched on, the penis will quickly become aroused and will stay that way as the vibrations continue their delicious sensations pulsing and retaining excellent blood flow through the sex organs.
After the first charge, a1 hour charge lasts for up to four hours of pleasurable vibes. Being a superior designed and made sex toy for the man who expects and demands only the best, the Lelo Bo comes in its own box complete with a charger.
Customers Opinion/Feedbacks
Peter – This is a very great and elegant looking cock ring. I must say it's a well made toy, and rechargeable. Thanks for the great experience!
Pierre – This toy should fit any man or dildo. These are a few qualities I discovered: makes clit contact, it lasts long, it's sleek and chic, and it's small and powerful!