Editor's Pick
Autoblow A.I.

Artificial Intelligence

100% Silicone Sleeves

Sleeves Can Be Changed

Great Beginner's Toy

Hand Free

Easy To Clean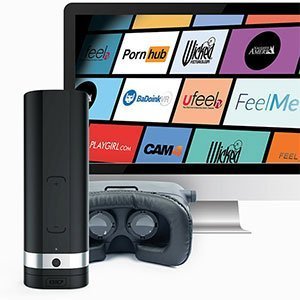 Kiiroo Onyx 2

Hands Free

USB Rechargeable

Sliding Scale Of Speed

Sleeves can be changed

Elegant And Discreet

Easy To Clean
Autoblow 2+ XT

100% Hands Free

No Batteries Needed

Industrial Strength Motor

Interchangeable Sleeves

Realistic Artificial Skin Material

Sleeves Are Easy To Clean
With the amazing RealTouch, you see what you feel and feel what you see!
RealTouch is a dramatically different sex toy for men and a big step forward in sex toy technology. If you ever dreamed of starring in a porn movie, this is the closest you're likely to get. RealTouch shows hot porn on your computer while you are hooked up to a male masturbator that accurately recreates every sensation that you see on screen.
Inside the RealTouch, several motors power skin soft belts in order to recreate a variety of sexual experiences. You fill the reservoir of the male masturbator with water based lube. A heating element warms the lube and starts to pump it as you slide into the inviting orifice. The device is hooked up to the computer so next you start choosing exactly what porn you want to watch.
Let's suppose for example, you view a Point of View (POV) porn video of a girl giving a guy a blowjob. The sight of the blowjob on screen and the sensation provided by the male masturbator trick the brain into believing it's you on the receiving end of some great head. You feel just what you see on screen. The flesh-like belts stroke and squeeze in perfect rhythm with the on screen action to give you the best masterbate session of your dreams. RealTouch is a blowjob machine and a fake vagina sex toy rolled into one.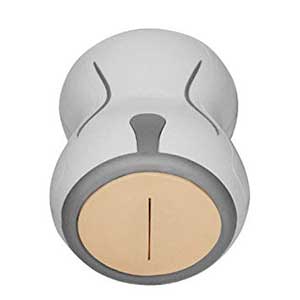 Material:
Realism:
Easiness of cleaning:
Price:
You can choose from hundreds of different porn movies featuring dozens of gorgeous porn starlets. These include stars such as Eva Angelina, Jenna Haze, Bree Olson, and Sasha Grey. More movies are constantly being added to the touch technology library, and you can choose what turns you on most, be it Oral, POV, Doggy Style, Cowgirl, Piledriver… take your pick.
Viewing time is divided into per minute viewing segments, starting at just $14.95 for 15 minutes. You can buy as any minutes as you want and the 'meter' stops when you stop viewing.
At $199.95, RealTouch is not the cheapest sex toy you'll ever buy, but it's probably one of the most remarkable sex toys you'll ever experience, and experience it you definitely should.
Customers Opinion/Feedbacks
Jim, Toronto – WOW, this toy felt excellent. At first i couldn't tell if the lubber thing was working but then it got to a part where the women had orgasm and I heard a buzzing sound and felt a cold wetness and DAMN DIT IT FELL GOOD!!
Randolf, Washington – This is my first experience with the great Realtouch and I must say I'm a very satisfied customer. I must admit that the $200 was a good investment.
Terry G. – I bought the RealTouch about 3 weeks ago and I'm very pleased with it. I also have a huge number of Fleshlights and I must say, given the choice, I'll always go for the RealTouch!!!