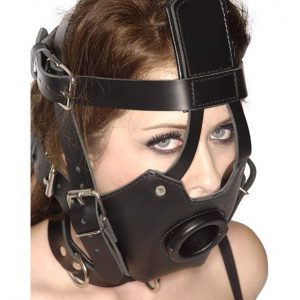 Looking for something to keep your sub from spitting and biting? The Strict Leather Half Face Muzzle is made from black leather with a velvety backing and Velcro closure. Holes in the muzzle and a nose hole allow for easy breathing and ventilation.
I've always found muzzles and masks quite intriguing. The masks that were worn during the plague absolutely fascinate me, and the rise of face masks in Korean pop music has gotten me even more interested in things. This particular mask reminded me of something I had seen Zelo wear. I had been wanting one badly, not just because it looks cool, but because I really wanted to see my husband in one. Back when we were just dating, we had made a bandana for his hair with an extra bit to go over his eyes. It was probably one of the hotter things I've seen him in. I can't explain why, but I just loved it. And so, I just had to review a muzzle. Plus, what's a werewolf hubby without a muzzle?
Packaging
Shipping for Fetish Zone is discreet. The envelope that I received this muzzle in was plain and had the return address labeled as "F-Zone".
Inside was a print out of the product page, and the muzzle in a plastic bag along with business card and a couple of mints. There were no care instructions included.
Material
The muzzle is made from a sandwich of black leather and a thin velvety material. The leather is fairly thin and has a bit of stiffness to it. Don't expect it to be as supple as lambskin leather. There is also Velcro at each end, sandwiched in-between the two materials.
Size
This muzzle comes in one size only. The neck straps adjust from 15.75″ to 18.5″ around, with no elasticity or stretch at all. If you're a rather large individual, this may not fit. The muzzle is 5.25″ from the top of the nose to the bottom of the chin.
I have to tighten the muzzle all the way. My head is 21" around, and my neck is 11" around.
We barely got the straps around my husband for the Velcro to adhere. His head is 23" around, and his neck is 15.5" around.
Construction
As stated earlier, the Strict Leather Half Face Muzzle is a sandwich of black leather and a velvety material with Velcro at the ends in-between each. Tan stitching provides a nice accent for the leather side of the muzzle, while the velvety side has matching black stitching. The trimming where the Velcro is sewn in is just a bit sloppy.
Inside the muzzle, the seams have been pressed flat and glued in place. From a design standpoint, it would have looked nicer to have the velvety backing as one piece of material, covering the flattened seams and making the back look more uniform, but it doesn't take away from the comfort or function of the muzzle.
Wear
Since I'm the only one which this really fits, most of this opinion will be my own. The muzzle is very easy to put on, and stays on just fine. I haven't had any issues with it slipping, despite me being so petite that I have to tighten it as far as I can. Breathing is easy, and the heat from my breath dissipates fairly well. The inner lining is very soft against my skin, which I love.
The only thing that bothers me is that the nose hole can dig into the top of my nose a little. This is something that greatly bothers my husband, and he refused wearing it because of it. It's not that the mask is too tight on me, it's just that the gentle weight of it on the rather thin edge of the firm leather pushes it in. This is something I only notice for the first couple of minutes of wearing the muzzle. After that, I sort of get used the feeling and don't notice it as much. Unfortunately, it leaves a pretty good dent in my nose after taking it off. I would very much have liked there to be some sort of padding in the nose area, to prevent this.
Cleaning / Care
For the most part, you should just be able to wipe this muzzle down with a soft, damp cloth and dry it with another soft cloth. To polish the leather, you may want to buy a high-quality leather polish. If you happen to stain it, it's said that rubbing cornmeal into a stain on leather can help soak it up.
Storage
Leather items should be stored in a place that is airy, dry, and cool. Avoid storage in direct sunlight to prevent drying and fading. If need be, cover your leather item with a fabric that easily breathes, such as cotton. Don't let your leather item come in contact with plastic for extended periods of time. This can dry the leather out over time.
Opinion
Although I do enjoy the look of the Strict Leather Half Face Muzzle on my husband, it barely fits him, and isn't comfortable for him. For me, this mask does fit and is comfortable aside from the same problem my husband has with it: the edge of the nose hole digging into the top of the nose. I have to admit that I'm disappointed that it's not big enough or comfortable enough for my husband, since he's the main reason I wanted it. So, I may end up modifying it.
If some padding were added to the nose hole, and if some elastic were added to the straps before the Velcro so that this would fit more people, then this would be a great muzzle, especially since it's under $20.