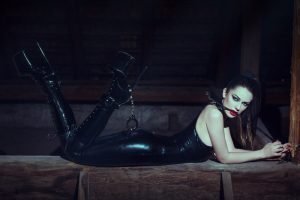 The term BDSM is said to have come about in the 1990s, as an initialized term to cover a broad spectrum of sexual practices and typically stands for bondage, domination and sadomasochism (or sadism and masochism), but it also encompasses a broad range of subcategories as well.
In terms of BDSM as a fetish, there a couple different levels. For some, it includes tying your partner up with a scarf, and teasing them with ticklers, vibrators, light whips, and even nipple clamps. For others, it is not as much a fetish as it is a culture, or a way of life. Extreme players may have play rooms built into their homes, with tables to strap each other down to, and a wide variety of whips, restraints, clamps and other toys. If they don't have their own play room, some fetishists know where they can rent 'dungeons' made for this purpose, or frequent sex clubs where these tools are made available. Leather and latex fetishes are often incorporated into BDSM fetishes as well.
So with the varying levels of intensity, it is important to know that when most people say they are into BDSM, they are talking about the less intense levels. Most people who are curious about this type of play are not willing to be tied up in a dungeon their first time. For most, this type of play makes a gradual incline up the scale of intensity.
If you're curious about the techniques and have never tried it before, there are many ways that you can incorporate some basic moves into your regular sex sessions. First of all, you must talk to you partner and let them know that this is something you're interested in trying. Whether you want to be dominated, or you want your partner to dominate you – they need to be aware of what's happening, and willing to participate, in order to make it work.
Once you partner has agreed, start off really slowly by using items from around the house like scarves to tie each other up with, wooden spoons to spank each other with, and hair clips to use as nipple clamps. If you decide that you're both enjoying it, take it a step further and purchase some items from an online sex shop. You can find full restraint systems for your bed or doorway, and a wide variety of tools to provide pleasure with a hint of pain for your partner.
If you are experimenting, however, you must ensure that your relationship remains open, and you constantly go over what is acceptable and what is not – know your limits. Pushing your partner too far, or not obeying a boundary can have devastating emotional effects, and could put a quick stop to your relationship.