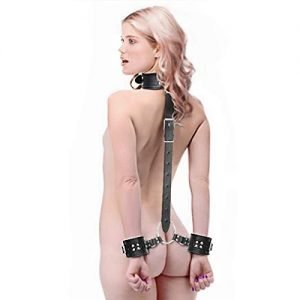 This is not your typical jock strap. This jock strap will aid you in some serious bondage pleasure if you let it. Made of an elastic waist band and a soft mesh pouch for your manly bits, this jock strap also has wrist restraints attached to the side. Slip on this jock strap and have your partner fasten your wrists into the cuffs for an unforgettable night of teasing and tempting from your partner.
The jock strap covers your member so your partner can't touch it – but – he or she can touch everywhere else. While your lover rubs your chest, presses their skin against yours, and kisses your most sensitive places, there's nothing you can do except get continuously aroused.
The backside of the jock strap is completely open making it easy to use dildos, anal beads, paddles, whips or other back-side toys you and your partner decide on.
Being unable to do anything in return will increase your arousal. Why not add in a blindfold to really put your senses into overload. If you've ever dreamed of being dominated, this is an excellent place to start.
Made out of an elastic material, the wide waist band is very stretchy to enable an easy but snug fit. There are two smaller elastic pieces formed as leg holes in order to keep the jock in place. The attached cuffs are made out of the same elastic material to keep a firm hold on his hands, while the pouch is covered in a soft mesh material for comfort.
The Elastabind Jock Restraint comes in one-size fits most, with a minimum waist size of 29inches.
To wash the jock restraint, hand was in cold water and let hang to dry. Be sure it is completely dry before storing.
Price: Starting as low as $39.99