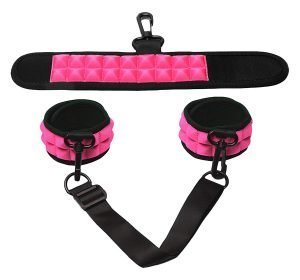 PicoBong, LELO's line of toys aimed at the younger crowd, has recently decided to take a shot at the BDSM market.  The new line includes the Resist No Evil Cuffs, Fear No Evil Teaser, See No Evil Blindfold, Speak No Evil Choker, and Take No Evil Whip.  All of the items come in your choice of pink, blue, or black.
My first thought when I saw these was "oooh…raver bondage!"  I laughed the line off, but liked the cuffs because I thought one might actually be cute to wear to a rave.  Since I got them I figured I'd go ahead and review them.
WHAT IT IS
The Resist No Evil Cuffs are a set of cuffs that can be worn on the wrist or ankles (if yours are very small).  They have a middle connecter to restrain movement of the wearer.  These are more beginner cuffs as they close with simple velcro.  More advanced BDSM folk will probably laugh these off as I did.
PACKAGING
If nothing else, I've got to give PicoBong some props for unique packaging.  The cuffs come in a blue plastic rectangular shaped…thing.  The front is clear so the cuffs are visible.  The back has a sticker that says the name of the item.
Here's where the unique part comes in.  The packaging is inflatable.  It's like a pool toy where you blow in the little air hole and it puffs up.  'Cause you never know when you may be out to sea and in need of floaties.  I'm not sure I really understand the point of this, but it sure if different from any other packaging I've seen.
MATERIAL
The cuffs are made of neoprene.  This is essentially a synthetic rubber.  It's plushy but not super soft.  It's used a lot for laptop sleeves, so if you've felt one of those you'll have an idea of what these feel like.
The safety of neoprene is questionable.  Rather than have me attempt to explain why that is, here's the Wikipedia info.
I don't know that I would recommend using these for long periods of time or over an extended time frame due to this information.
SIZE
The cuffs are on the smaller side, which is good for me because I have super tiny wrists.  The total length of one cuff is 10.75″.  The pink portion is 6″ while the rest is velcro that can be used to size the cuffs to the individual.  They are 1.75″ wide.  There's a clip attached to them that is 2″ long and 5/8″ wide.
The middle connecter is 11.75″ long when at its smallest.  At it's longest it's 19″.
The cuffs fit me very well.  My wrists are right at 6″ around.  My ankles will fit but pretty much max out the cuffs.  They're 9″ around.  So basically your wrists will have to fall between (guessing here) 5.5″-9.5″.  That's not really a ton of range given how much can be found it other cuffs.  They are really good if you have tiny wrists though because you don't get the overlap that happens with the wider range cuffs.
DESIGN
The front of the cuffs have raised neoprene squares.  These raised squares is what you're picking color wise when you choose.  There's two squares per column and nine per row.  They're stitched on with a pink thread which is somewhat visible on the back.  The visibility of the threading on the back makes it look not so wonderful and a bit on the lower quality end.
When I first saw the cuffs my thought was "rave cuffs!"  A lot of other people commented that they were reminded of Tetris, which I can totally see.  They have a bit of an 80s vibe going on.
There's a small tag at the end of the pink section that says "PicoBong."
CONNECTING AND CLOSING THE CUFFS
The cuffs are primarily intended to attach together via the included middle portion.  Each cuff has a clip right in the middle of it.  The middle portion has D rings on either side.  You take the clip and attach it to the D rings.
The clips can be attached to other things, but since they're clips and not rings it's not the easiest task.  I was able to get them to work with my under the bed restraints okay.
The middle portion is pretty long (measurements in the Size section).  The length of it really takes away from the feeling of being bound by the cuffs.  You have a lot of range of motion even when it's tightened as much as it can go.  If you loosen it up all the way you might as well not even have cuffs on.
The cuffs close around the wrist via velcro.  The velcro has an okay grip to it.  It would be pretty easy to break out of if you wanted to.  Since it's a basic cuff there's no locking feature.  Velcro closures are good for someone who wants to experiment with being bound because there's a bit of safety in knowing you can get out easily.  For someone who knows they like to be tied up and wants to feel actually restrained these won't do it.
RESIST NO EVIL CUFFS IN USE
So my main goal in buying these was to wear them out.  I didn't realize there was a huge clip attached at the middle when I bought them.  This renders them pretty much useless for my original purpose since having a clip on accessory cuffs looks silly.
When using the cuffs in the bedroom I didn't feel very restrained.  These reminded me of cuffs we started out with ages ago.  The middle section is just plain silly.  How one would feel restrained or bound in any way with all that length in the middle I just can't imagine.
I do like the look of these cuffs.  They're fun and that's something you don't run across all that much in the BDSM world.  Of course, LELO's target market for PicoBong seems to be preteens.  I doubt the young crowd would be as into serious gear as they would just lack the experience to use them properly.
RECOMMENDATION
So here's the thing.  These are pretty much a waste for me given that I can't use them as an accessory and I'm way past the point of velcro cuffs in the bedroom.  However, I think these make a pretty good set of beginner cuffs.  They don't look scary, they're easy enough to get out of if someone freaks out, and they limit the amount of restriction you can have.  I'd imagine it would be pretty difficult to injure yourself with these or cause any big accidents.  The price point is also low so if you decide bondage isn't for you it's no big monetary lose.  My only hesitation on a full beginner recommendation is the fact that the neoprene isn't so safe.  My recommendation then is to use these as a trial and move up to something safer if you decide bondage is your thing.
IN CONCLUSION
I'd give these four stars if the middle portion was able to be shortened more.  Because the range of motion is just so huge I'm deducting half a star.  I also feel like giving it four stars when I personally won't be using them is a bit much.
Rating:  3.5/5
Intensity:  N/A
Noise:  N/A
Pros:  Fun colors and design, Good as starter cuffs, Easy to use
Cons:  Not for advanced BDSM players, Too much range of motion, Possible dangers in material
PURCHASING
The PicoBong Resist No Evil Cuffs are available from picobong.com for $25.99.