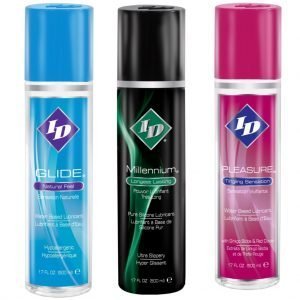 One of the best, long-lasting lubricants on the market, the I-D Glide Lubricant is making quite a name for itself. Unlike many other water-based lubricants, this lubricant stays thicker and wetter for longer. It also has a consistency which has a very natural feeling. What more could you really ask for in a lubricant?
Even though it has already pretty much sold itself, there's more. The I-D Glide Lubricant comes in a 17.6 oz. (large!) bottle with a pump top for easy dispensing – even while in the throes of passion. Plus, a little goes a long way with this lube, so the bottle will last you a while, or many sessions, whether with a partner or for solo missions.
If you have sensitive skin, you don't have to worry with I-D Glide. It is non-flavored, fragrance free and formulated with the best ingredients to ensure it is safe and comfortable for most skin, sensitive or not. It is also non-staining and water soluble. Just apply a pea-sized amount of this thick and wet lube, spread it around, and enjoy the long-lasting effects of better, wetter sex.
Because it is a water-based lubricant, the I-D Glide is safe to use with condoms, and most vibrators, dildos and anal toys. It is great for anal play because it goes on thicker and lasts longer than most water-based lubricants, which is essential for anal penetration.
It is easy to clean off your favorite toys as well – just rinse thoroughly with water.
So make sure your next sex session doesn't dry up early, by having a good-sized bottle of I-D Glide at your bedside at all times.
Price: Starting as low as $15.85