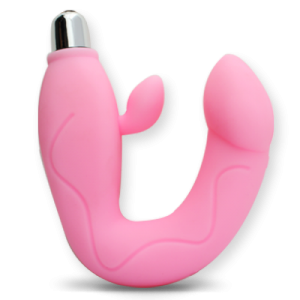 Rabbit vibrators can be expensive, but that doesn't mean you can't experience the feeling of one even if you're on a budget. The Ladygasm Orgasm Accelerator will allow you to do just that. Not only is it an excellent toy for a budget-conscious buyer, it's a great way to find out if you enjoy this type of dual stimulation before you purchase a more expensive rabbit-style vibrator.
Still made out of high-grade materials, this smaller version of one of the most popular styles of female toys is designed to give you vaginal and clitoral stimulation simultaneously just like some of the more expensive versions. In fact, many women who have tried this toy have found that it was more than enough, and have used it very frequently with much satisfaction. Is the small size and affordable price something you'd be interested in? A few more details may help you decide.
The perks and pleasures you can expect
Similar to all rabbit-style vibrators, this toy is designed for simultaneous clitoral and vaginal stimulation. Simply insert the larger end of the toy into the vagina to stimulate the g-spot while the smaller end with the clitoral tickler rests on the clitoris. Turn on the removable bullet vibe to send vibrations throughout the entire toy. For those of you who have never tried this type of vibrator before, you're sure to be impressed with the intense pleasures that can be derived from dual stimulation. Many women report some of their most intense orgasms ever, which is what makes this style of toy so popular.
As most of the Ladygasm toys, the accelerator is made from medical-grade silicone which allows the toy to be firm but also incredibly flexible to ensure that each stimulating end reaches exactly where you need it to. As well, the material has a very soft, smooth finish that feels incredible on all your most sensitive areas. And don't worry about having any adverse skin reactions that can happen with some cheaper toys – this silicone is latex-free and hypo-allergenic. Plus, it's non-porous which means it's one of the only sex toy materials that can be fully sterilized after use.
This version of the typical rabbit vibrator is smaller, less expensive and easier to use than some of the more detailed models available. That doesn't mean it offers less enjoyment, though. It still has the ergonomically curved shape that allows for intense pleasure in both of your most sensitive areas internally and externally at the same time. No matter what the size or cost of the toy, there's definitely something to be said for that. And the small size allows for better maneuvering which some prefer over the harder handling of the larger toys.
The controls are simple to use as well. Since the only motor is contained inside the removable bullet vibe, just click the vibe on or off depending on your mood. Or, try creating your own vibration pattern by clicking the vibe on and off in a methodic pattern of pleasure. Or, if you're looking for a little fun on the road – the vibe can be removed to make an incredibly small and discreet travel companion. Just make sure you've got the appropriate batteries on hand so you don't end up in the throes of passion when your vibe cuts out.
Once you've removed the vibe, the accelerator is incredibly easy to clean. Just wash the silicone toy in warm water with antibacterial soap or use a sex toy cleaner if you have one available. If you feel the toy needs further cleaning, submerse the silicone portion of the toy into a pot of boiling water for a few minutes to make sure it's completely sterilized. Just make sure the toy is completely dry before re-inserting the bullet vibe and storing away. The vibe is not waterproof so if it needs a cleaning, just wipe it down with a damp cloth.
Price:: Starting as low as $107.95