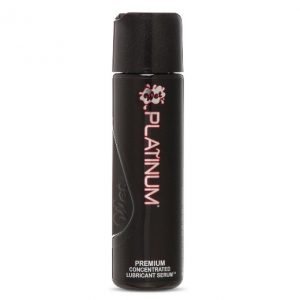 This silicone-based lubricant is incredibly long lasting, and feels super smooth to enhance any sex session.
With an incredibly glossy, smooth feel, one might compare it to the slickness of oil, but without that sticky, greasy residue that's hard to clean up. Wet Platinum Glide Lubricant is actually very easy to clean up – just wipe it up after use with a dry or damp towel.
Because this lubricant is made with silicone, it doesn't dry up quickly like most water-based lubricants, and it doesn't get that sticky or tacky feeling a few minutes into using it, requiring more application. With the Wet Platinum Glide, one application will last a very long time, and will stay smooth and slick instead of getting sticky.
This lubricant is safe to use with latex condoms, and recommended for use with many sex toys. However, silicone-based lubricant should never be used with silicone toys. Combining the two will ruin the silky smooth finish of your silicone toys.
Because this lubricant is ultra condensed, the smooth liquid feeling lasts for a long time – even under water – making it the perfect lubricant for those who like to take their partner or solo sessions into the shower, bathtub, hot tub, pool – or anywhere else your imagination and sexual bravery may take you.
The ultra condensed formula also guarantees that a little bit of lube goes a long way – so the 8.9 oz. bottle it comes in is sure to last you a long time, with many amazing sessions from just one bottle.
So if you're looking for a lubricant that can last as long as you can – the Wet Platinum Glide is the one for you. It is also a great lube for anal play, ensuring you don't get dried out in the midst of anal sex which can be quite uncomfortable.
Price: Starting as low as $16.99