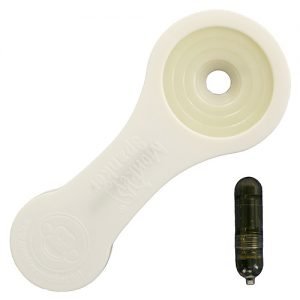 There's a sea of masturbation aids on the market, each promising to give you ever more intense orgasms than the last. Striking the balance between suction and stimulation can be hard to do, however. The Monkey Spanker is a toy that strives to do just that. On first glance, it's hard to tell what this little paddle-shaped device is meant to be used for. This can be a good thing, as it makes the toy more discreet than other conspicuous vibrators or sex aids. You can leave it lying around in your room and no one will be the wiser.
The Monkey Spanker is made out of your choice of white or black plastic, with a silicone seal that slides over the penis. There's a vibrating feature to help add greater intensity, while the silicone seal gives great grip and suction. The vibrator is added in the back of the paddle, where there's a cut-out section to place the vibrating bullet. This is controlled with a simple single button, so you can choose to leave it off if you prefer. The vibrations can be quite strong, which is not always to everyone's liking. If you're looking for intensity, however, this is an ideal added feature.
Although the hole in the silicone pad looks too small to accommodate a penis, it is built to fit most sizes and stretches along with you when you insert yourself into it. The silicone is smooth, giving a tight grip and a comfortable feeling. It does require the use of lube, unless you want to risk getting chafed. As you pass through the hole, the pad provides a wider surface area to stimulate you in more areas of the penis. The grip is similar to what you'd experience with a cock ring, helping intensify each sensation. The silicone is also a great conductor for the vibrations that stem from the magic bullet.
This vibrating paddle is extremely simple yet brilliant in its design, with the overall synergy between its components creating a strong suction effect. This is something that you don't get with every masturbation sleeve, making the Monkey Spanker unique. The sensation feels like something in between a blow job and a hand job. The combination of the suction, stimulation of the silicone, and vibrations ends in a strong climax for users. Another plus to this simple tool is that it's low in price and reusable.
Light, portable, and effective, the Monkey Spanker is particularly ideal for travelling, because it can be tossed into your carry-on bag. Its inconspicuous plastic and silicone design means that you can pass through security without worry, and take it anywhere you wish. Overall, this is a highly effective, unique, and affordable little toy.