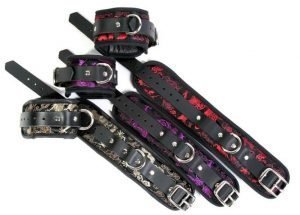 Even though I have a regular pair of cuffs to wear, I couldn't help but perk up when the Leatherbeaten Dragon Silk Restraints came back in stock.  I'd been wanting them since before I got my usual cuffs and still had to have them.  Plus I didn't have anything from Leatherbeaten but had heard great things about them.
WHAT IT IS
The Dragon Silk Restraints are a pair of wrist cuffs.  They are primarily used for bondage, but these are pretty enough to wear out as part of an outfit.  These will adjust to fit a wide variety of sizes.  They come in black/red and black/purple color combos.
PACKAGING
The packaging is pretty minimal, which seems to be typical of cuffs.   It comes in a plastic baggie with a small tag that announces the name of the cuffs and the company that makes them.  It also states that the product is made in Canada and features real silk.
MATERIAL
The cuffs are made of silk and leather.  The silk is multicolored with design on it.  It's super soft, as silk tends to be.  I'm no professional in silk, but it seems to be high quality.
The leather is soft and supple.  It's easily pliable and not at all firm like some new leather can be.  It feels almost like it was pre-worn for comfort it's so soft.  It features traditional leather texture when you look at it.  The silk wraps around the bottom layer of leather so no fuzzies are visible.  Since fuzzies always annoy me, I really like this about these cuffs.
The top strap of leather is made from "light, but strong belting leather."  This type of leather was originally used in types of machinery.  It's a heavy weight, full grain leather.  This leather, too, is very soft.  Much softer than what most things associated with belting leather are (briefcases, wallets, etc.).  The top is smooth and shiny and the back has the leather fuzzies.  These fuzzies are good about not extending over the width of the leather to where they are visible when looking at it from the top.
Even at a distance and having had these for a while, the smell of leather is still apparent.  This can be good or bad depending on how you feel about the smell of leather.
The rivets are made of nickle plated brass.  The buckles and D ring are harness grade metal.
SIZE
The total length is 13.5″ from the tip of the buckle to the end of the top strap.  The main restraint is 8.75″ long.  This area is 2″ wide.  The top strap is .75″ wide.  There are 12 notches on the top strap for sizing, each .5″ apart.
Leatherbeaten states these cuffs will fit wrists down to 1″ in diameter.  It doesn't state what the upside is, but the length allows for a larger size wrist to fit as well.
My wrists are pretty small, only about 6″ around.  I wear these on the fourth from last notch.  As you can see in the photo, this leaves a bit of overlap with the top layer that hangs awkwardly around.  However, given that most cuffs don't fit my small wrists, I'm just happy they fit at all.  Plus there's still three more notches to go down for wrists even smaller than mine.  There's a ton of notches on the bigger end as well.
I feel like these restraints are good in the sizing department simply because they will fit so many different sizes.  Just be aware that if you're on the smaller size that you'll have the top layer hanging.
DESIGN
On one end of the cuff is the buckle, while the other end has the notches.  The buckle is a non-locking buckle and is rectangular in shape.  This attaches to the top leather strap.
In the center of the top strap are five rivets.  Four of these are more near the center and one is by the buckle.  There's a D ring placed in between the four rivets which is what is used to attach the cuffs together or to other things.
The top strap ends in a V shape.  You can see in the photo that when they first come there's a bit of a dent in the top strap from storage.  This works itself out after only a few uses due to the softness of the leather.
You can also see what the inner leather looks like with the rivets from the photo.
What makes these cuffs stand out is the silk design on the main part of the cuff.  It's black silk with Chinese style dragons and flowers embroidered onto it.  From afar the flowers are more noticeable than the dragons.  I have to lift the buckle to really see the dragon design.  The overall appearance is quite stunning nevertheless.  These look almost like cuffs from an ancient time period.  I also really like Asian stuff, so maybe that's why I like the design so much.
QUALITY
The quality of these cuffs is incredibly high.  The leather is some of the nicest I've run across in terms of softness and overall feel.  Near the two ends some of the silk has loose threading on the underside.  This has happened over time and use of the cuffs.  They don't seem to be anything that will cause permanent damage, but do make the underside look not as pretty.
With proper care, the cuffs should last a long time.
CARE
One of the first rules of leather is never to submerge it.  If it gets wet, make sure you dry it completely as soon as possible.  Silk also has special care instructions.  It should never be in contact with rough soaps, which probably won't happen anyhow because of the fact that you won't be washing the leather.  If the cuffs stain, take a warm water cloth to them to remove the stains.  Make sure you dry off any water immediately.
DRAGON SILK CUFFS IN USE
We use cuffs to attach me to all sorts of things, which is one of the great things about cuffs that come separate rather than joined together.  These don't come with anything for attaching, so you'll need something to use for that purpose.  We have an under the bed system that has attachments for cuffs and a few hook closures for attaching cuffs to themselves or various things.
These cuffs are incredibly comfortable to wear.  The leather is so soft it doesn't irritate my skin at all.  I feel like I could wear these all day.  The 2″ width of the cuffs is ideal for being thick enough that you don't feel like it's going to break, but not so thick that you start feeling like your whole arm is covered in cuff.
The cuffs held up well during use.  I don't struggle when bound, but if left bound during sex I do tend to thrash around a bit.  These took the thrashing in stride.  The soft leather moved with my body when I moved and didn't cause them to poke into my skin when I moved around.
While my favorite cuffs are still my custom made ones (due to the fact that they fit perfect and are my favorite colors), these come in pretty high on the list.  If I'm wearing anything black and red, I make a grab for these to match.  We also use them some nights just because they're so comfy.
The only real issue is how the top layer hangs over, but that's kinda to be expected if you're going to have cuffs with a large size range on them.  It's kinda annoying, but I'll take the functionality of it over being too picky about the appearance.
RECOMMENDATION
These seem to be out of stock a lot, which is understandable given how pretty they are.  If you can catch them in stock, I'd recommend getting them.  They'll fit just about anyone and will likely be the most comfortable cuffs you've ever tried.
IN CONCLUSION
Rating:  5/5
Intensity:  N/A
Noise:  N/A
Pros:  Gorgeous design, Comfortable to wear, Soft leather, Silk material, Will fit large range of sizes
Cons:  Smaller sized wrists will have hang over of top layer
PURCHASING
The Leatherbeaten Dragon Silk Restraints are available from Ecosex.ca for $54 in both red and purple.