Editor's Pick
Autoblow A.I.

Artificial Intelligence

100% Silicone Sleeves

Sleeves Can Be Changed

Great Beginner's Toy

Hand Free

Easy To Clean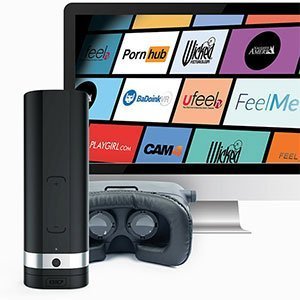 Kiiroo Onyx 2

Hands Free

USB Rechargeable

Sliding Scale Of Speed

Sleeves can be changed

Elegant And Discreet

Easy To Clean
Autoblow 2+ XT

100% Hands Free

No Batteries Needed

Industrial Strength Motor

Interchangeable Sleeves

Realistic Artificial Skin Material

Sleeves Are Easy To Clean
Just lay back guys, and forget about those spaceship technology cock stimulators, as sometimes the easiest and best products are those that are simple and precise. The product is one of those products that just work by reacting to the rhythm of your own penis during self-pleasuring. It is following and adhering to the movements and motions that your hand gives to the shaft.
When you look at this blue or black baby Manzz Toys Rollie you will see that it is made of platinum silicone, making it extremely body friendly to guys who have this attached to their penis. The product has a large round hole at the base that looks like a rope loop, and it is here where the guys place their ball sac and penis through the ring, so that the balls are now resting on the toy, and resting also means that it will also push the balls forward too, and makes the slapping of the balls during masturbation even more enjoyable.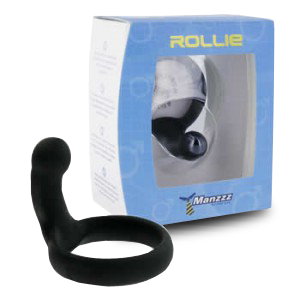 The rest of the penis runs parallel to the Manzz Toys Rollie, and when you masturbate the end of the sex toy will rub the end of the shaft head and the cock head itself. So you now have a sex toy that without batteries or anything else that will help that explosion of man juice again and again. The unit is one of the easiest sex toys out there, and one that is the easiest to use.
Because it is made of silicone, it feels nice and soft and gentle against the body. There are no harsh rubbing sensations, as it is soft and gentle. It is the constant contact between the penis and the Manzz Rollie Toys that does all the good for the male sex machine.
Although the product is made of silicone, it is not advisable at all to actually use a silicon lube, so when you get the package delivered ensure that the lube instructions are followed. The unit is ultra-easy to clean too. Just wipe, wash or boil. It is that easy to have it made ready for the next run. And the next run. And the next run.
Reviews
"When I first saw this baby I thought it looked like a small old style hula hoop with a stick attached to it, and to be honest I was not sure what it was supposed to do. But once I slipped it on and started the proceeds I soon found that it did the trick in a matter of moments. As soon as I got into my stride I was amazed to where it was able to take me. Fun. Fun. Fun." Ali M, Dagenham, England.
"I loved it. No mess. No technology to get in the way. Just the beating of my cock with a great cock ring fitted on". Nigel Q, Wellington, New Zealand.
"I loved the fact it was doing two things at once. How good is that?" Graham P, Montreal, Canada.