Editor's Pick
Autoblow A.I.

Artificial Intelligence

100% Silicone Sleeves

Sleeves Can Be Changed

Great Beginner's Toy

Hand Free

Easy To Clean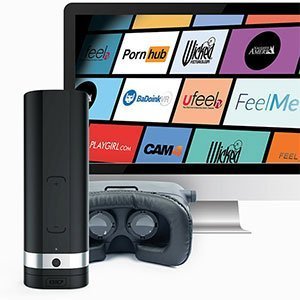 Kiiroo Onyx 2

Hands Free

USB Rechargeable

Sliding Scale Of Speed

Sleeves can be changed

Elegant And Discreet

Easy To Clean
Autoblow 2+ XT

100% Hands Free

No Batteries Needed

Industrial Strength Motor

Interchangeable Sleeves

Realistic Artificial Skin Material

Sleeves Are Easy To Clean
Fleshlight Pure replaces the Stealth orifice and this new pink glazed donut looking orifice certainly look tempting. As the company explains, it's all about being able to get down to a good session fast, and this certainly looks like a no frills, no fuss edition of the world's best selling masturbator.
Question is, is it an enlarged butthole or a small gaping mouth? It's unclear why this variation is really necessary, but they insist that the reason behind it is for some fast and hard action with a generic orifice to keep things interesting.
So, why did the guys at Fleshlight offer the Pure orgasm tool? The idea is it's basically a superb travel toy, take it with you to conferences and seminars to relieve yourself instead of hanging round the bar tempting trouble. Stash it away carefully so it's not the first thing the customs guy sees when you get picked for the random suitcase check. That would not be cool.
The orifice is designed for no messing about, just get straight down to business with a drop of lube.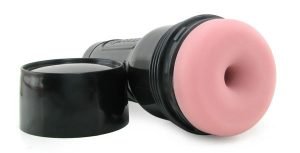 Pure has a texture that is all its own, unique inner texture, it's a relatively wide and easy to slip into sleeve but with a wide variety of zig-zag ribbing that gradually tapers down to a lovely tight canal. It's an unusual texture and definitely worth exploring.
The canister is identical to those that have gone before. One great new way to keep the love sleeve in tip top condition is to equip yourself with some Fleshwash Anti Bacterial Cleaner. It may seem like an unnecessary bit of kit, but in fact it's an essential for every proud and happy user of this great Brand.
Wash your sex toy first in some warm water then Just spray it on the love sleeve and it will fight bacteria and keep the sex toy clean and sanitary. Then your new Pure will be pure by name and pure by nature.
Reviews
"I gotta say I'm fast becoming a fan of this kinky toy. It's really quick and easy to use. And the orifice is easier to penetrate than many of the others. I also like the tight love canal. In comparison to the other toys I would have to say this one suit me better." Mark K St Louis, Mi
"This may come as a surprise, but I am a woman and I am delighted with this model. Why? Well I actually get off on masturbating my husband with them but he has often complained that the masturbators have been too tight, too short, or just plain unstimulating. Fleshlight Pure has absolutely none of these problems. He actually said it's like the best blowjob he has ever had!" Kathy T, Baltimore Md
"Wow! This has become my new favourite masturbator. I love to grip the case and really go for it. The new texture has ribbing which really stimulates my cock as I pound in and out. You won't get this much of a thrill from a hand job, believe me! Even if you have other Fleshlights I would say this has to be a must buy addition to your collection." Mark D, Buffalo, NY