Editor's Pick
Autoblow A.I.

Artificial Intelligence

100% Silicone Sleeves

Sleeves Can Be Changed

Great Beginner's Toy

Hand Free

Easy To Clean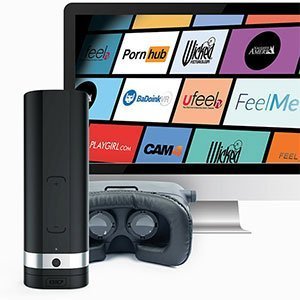 Kiiroo Onyx 2

Hands Free

USB Rechargeable

Sliding Scale Of Speed

Sleeves can be changed

Elegant And Discreet

Easy To Clean
Autoblow 2+ XT

100% Hands Free

No Batteries Needed

Industrial Strength Motor

Interchangeable Sleeves

Realistic Artificial Skin Material

Sleeves Are Easy To Clean
Even an invention as mighty and popular as the Fleshlight – the perfect male masturbation too, has to move on. And move on it has in the form of the Vibro. This particular model comes equipped with three separate bullets which can be used individually or by themselves and they are placed just behind the front opening of the sex toy.
The canister for the Vibro comes in a relatively new Gun Metal case, but other than the color it's exactly the same as any other case. Included in the cost of purchase, the company throws in a tube of lube (not very big) and some spare batteries with which to power the bullets.
If you have not tried a vibrating product before the effect is going to be strange at first. A bit like driving a stick shift car and then switching to manual – you're more or less doing the same things as before, but in this case, the bullets are creating the vibes without you having to rely so much on your hand.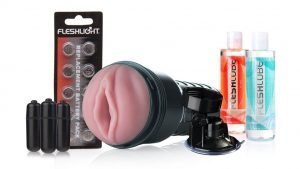 The masturbator inner love sleeve of choice for the Vibro is what is known as the The Cyclone insert, it has a series of ribs spiralling from top to bottom. As you lube up you're your small bottle of lube and start to slide inside the sleeve gets tighter, providing you with a tight and satisfying ride as you start to thrust. The sensations vibrating your cock as you switch on the Vibro massager go right through your cock and groin to make for one powerful sensation.
The cyclone insert and the vibration make for a really powerful experience, in fact it might almost be too powerful for some – so take it easy at first.
The Vibro comes with the pussy insert and the butt insert and cost around US$76 a piece. If your bullets pack up on you they can be ordered separately.
The company continues to dream up exciting new ideas for their best selling male masturbator, and the Vibro certainly adds a whole new dimension to what you can do to get pleasure out of using it.
Reviews
"Woah! If you asked me to score the Vibro, I'd give it a 9 out of 10. Most male masturbation toys just simulate sex, but the Vibro is a whole new experience. The first time you try it you will know you have raised the bar in pleasing your pecker." Matt G, Atlanta, Ga
"The vibro really brings an extra dimension to my Fleshlight play, I love it! In addition to great sensations while thrusting in and out the vibro builds to a powerful orgasm every time. I didn't think they could improve on the fake pussy, but believe me, they have." Martin H, Stourport, UK
"I couldn't believe it when my girlfriend bout me the Vibro, – but she figured if I had one of these I wouldn't pester her for sex so much. Turns out she was right, once I tried the Fleshlight and put the vibration on, man, it's the most powerful action I've ever had – more than I could handle at first, but now I am getting the hang of it. Maybe my girlfriend is beginning to wonder if she did the right thing." Steve M, Chicago, IL