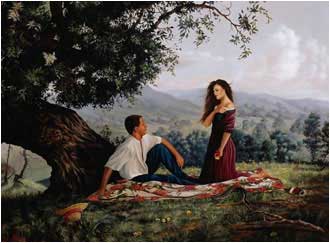 Under the whispering leaves of an old oak,
Your hands run gently over me,
Your lips brush mine as they begin to wander,
I close my eyes and bask in the moment,
I must be dreaming, If I am, let this dream never end
Lying here with you, I raise your chin gently and look into your soulful eyes, the hours are counting down, my shore leave is almost up. I report back at 6pm, it's now 2pm. Four hours left of a fantastic four days together. Where we met, and how we met, it seems an age away, but it's just 90 little hours ago. The sun beats down brightly, but we are cool and breezy under the shade of this old oak. Lying on this bed of roses – the rose pattern of your blanket, that is, there's a nervousness and tension between us, the weight of unspoken intentions. I am wondering if it is going to happen between us, or do I board ship tonight and cross oceans without ever knowing the taste of you.
I know what I want. I want your kiss for keeps, I want everything you can give me. I take you in my arms and kiss you. Our kissing is arousing me and I want you now so badly.
I can sense your arousal too, these are precious moments as the clock counts down. I push your legs slightly apart and, raising your dress, I catch a glimpse of your soft white panties. Now I run my hand over that soft, warm triangle. Your pussy breathes its heat upon my hand. You raise yourself onto your knees and, your beautiful hair blowing in the breeze. Watching me all the while, you peel your off-the-shoulder dress down to reveal full pouting breasts that I long to caress and hold. You throw away your half eaten apple and, like Eve led into temptation, you slowly remove those white panties, all the while staring into my face.
You lie back down and I can barely contain myself. I'm shaking with anticipation for you.
I unzip myself and my cock can feel the cool summer breeze upon it. I invite you without words to play with me and you lick your lips. I let out a moan as you lower yourself and take my hard cock in your mouth Your tongue dances around the head of my cock, sending me into ecstasy, my toes are curling, my eyes are tightly closed, my breathing rapid. I can feel your hot breath on my cock as you pump your head up and down. Then, with one fluid movement you climb on top of me and slide your warm pussy onto my rigid cock.
It's the most delicious feeling as you glide down upon me and I start thrusting in and out. I grab the cheeks of your ass and your breasts hang like ripe fruit over my face. I suck at them, one after the other. I know I'm going to come real fast, these moments are just too sexy for me, it's too much excitement, too much build up, too much tension. Why have we held back until these last hours to discover each other?
But I am not in the least frustrated, all good things come to those who wait. I've had girls in less than half the time, but the wait was only a fraction as good as this. I pull out and my come cascades in a rush and our lips lock together in frantic kissing. You have to understand the passion of the last few hours of a shore leave to understand how hungrily we kiss. I'll be good to go again in five minutes once your magic lips get to work on me. But right now, that's not the most important thing. It's this dream like quality of our last few hours together. I don't want it to end, I know it must and that soon enough, but now there's hope for us. I will stay true to you, and this is no sailor's empty promise, I'll be back in five months to lie with you once more upon your bed of roses. Please, I beg you, just give me the chance to prove it.
Erotic Stories