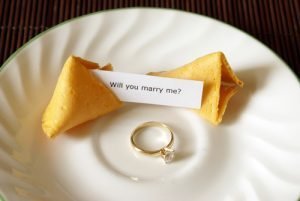 The night you propose to your girlfriend is a night that you're both going to remember for the rest of your lives. It's also a night that she's going to reiterate to every single one of her friends, relatives, co-workers and possibly even random strangers on the street – so your proposal had better be good.
Proposing in a public setting is really romantic, but it can put pressure on her if she's unsure, or if she wants to discuss logistics before she says yes. It's probably best to do it privately. After all – the proposal is for the both of you, not everyone else. That being said, here are some unique ideas for where and how you can propose.
Massage: Set up the bedroom for a romantic massage – light candles, dim the lights and play soft music. Then give her a full body massage, and save her hands for last. Slip the ring on as you get down on one knee at the side of the bed.
First date: Recreate your first date to the exact details, if you can. Wear the same or a similar outfit, and take her to the place of your first date. If it was a restaurant, take the liberty of ordering for her, and order the exact same things you both ordered the first time you were there. If your first date was at a bowling alley, ask for the same lane. Then tell her that you would ask her to marry you on the first date if you knew then about her what you know now.
Treasure hunt: Have her go on a treasure hunt around the house, following clues. For example, place a new bottle of her favorite bubble bath on the kitchen counter with a card that reads "Enjoy some relaxation with this where?" She'll head to the bath where you can place another one of her favorite things and another note. The last card can lead her to you, kneeling in one of the rooms with the ring box in your hand.
Photo shoot: Set up a photo shoot with a local photographer and tell her you want some romantic pictures of just the two of you. Already, you'll have her swooning. Make sure the photographer is in on the surprise, and have them distract her on your cue while you pull out the ring and get down on one knee. The photographer will instruct her to turn back around, and there you'll be. Best part is, the photographer can capture the exact moment of your proposal, and the shocked look on her face.
If you really insist on doing a public proposal, try taking out a full-page newspaper ad in her favorite newspaper, or hire a plane to write it in the sky when you take her out for a picnic. They may be cheesy, but they're still super cute.