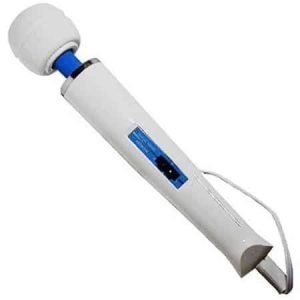 If you're worried about what the people in your home are going to think if they find a sex toy lying around the house, then choose the sex toy that doesn't look anything like what it is. Wand-style vibrators are an excellent toy, since they were originally designed as a body massager, so you don't even have to hide it.
Why it's better when not used for your neck
Definitely the most popular wand on the market, the Hitachi Magic Wand was originally introduced on the market as a body massager, claiming to relieve stress and aches in muscles in the back, neck or even legs and arms. And don't get me wrong – it does do its intended job very well. However, in the 1970's it gained incredible notoriety as one of the best clitoral stimulators ever made. Then a few decades later, it was discussed at great lengths on the show Sex and the City which made this already popular toy even more popular. But what is so special about it?
The end of the wand spins around and when placed on the clitoris it is one of the most powerful vibrators ever made. There are two speeds, controlled by a small button on the body of the wand. When placed on the clitoris, it can be used as a tool to reach orgasm very quickly. Since the popularity of this toy for this purpose has become so great, the manufacturer also sells various attachments to make the wand even better for clitoral stimulation. There are different tips you can put on the head of the wand, and there is even an attachment for men that encapsulates the penis and provides an excellent stimulation of the shaft.
One of the best things about this toy is that you never have to worry about batteries. You don't even have to worry about charging it up. The Hitachi Magic Wand gets its power from a long cord that is plugged into the wall. That way you can use it as long as you want, as often as you want without worrying about the power cutting out. And they even sell stands for the wand now so women can use it hands-free.
One of the reasons that it has become such a popular choice among women is that it helps many women reach multiple orgasms much easier than normal. Since the head is very powerful and you don't have to worry about running out of power, it makes multiple orgasms quite easy. What many women don't know is that almost every woman can reach multiple orgasms if she puts her mind up to it. The trick is to be ready for that. Don't allow your body to relax after the first orgasm, and continue stimulation. The magic wand is the perfect toy to do this with, and with the hands-free attachment it's even better.
But that's definitely not the only accessory that is worth having. You can buy a speed control that allows you to fine tune the speed of the wand with a dial instead of using the main switch which gives you just two speeds – quick or really quick.
And while the wand may not have the fancy vibration patterns that are popular on so many toys these days, or it doesn't have 12 speeds, that doesn't mean that it's not still one of the best toys around. Women (and men) have been using this exact toy for decades now, so there must be something pretty amazing about it, right? Plus, you don't even have to hide it around the house. Since it's marketed and sold as a body massager, you can leave it under the bathroom sink if you want, and nobody will know.