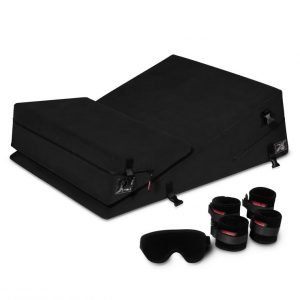 Turning my original label Wedge/Ramp Combo into Black Label just made it that much more fun! Plus, the cuffs and blindfold match my Fascinator Throe!
For those of you not familiar with the Black Label variety of Liberator Gear, it's rather nice for light bondage. The soft, microfiber covered shapes and cuffs have plastic buckle snaps to quickly and easily turn these positioning aids into a bondage playground. The Ramp has 3 sets of snap buckles sewn to the soft mircofiber cover, and the Wedge has one set.
Included with the shapes is a set of leopard print cuffs for wrists and ankles, a leopard print blindfold, and 6 snap buckles (2 with long adjustable straps to attach cuffs to shapes, 2 non-adjustable short straps to attach cuffs shapes, and 2 double female-ended straps to make the cuffs into handcuffs or anklecuffs).
I was a little confused, at first, as to what the double female-ended straps were for. Since I only got a kit to convert the original label Wedge/Ramp Combo that I have, there wasn't any instructions. Sex must have cleared my head because I figured out afterwards that those straps were for making handcuffs. Yeah, I had a derp moment. It seemed so oblivious, once I figured it out.
The Cuffs
The cuffs are very soft on the inside and are slightly padded, so don't worry about chaffing, unless the cuffs aren't big enough to fit your ankles/wrists. Of course, they should fit most people. Each cuff is made of the same material as the cover for the Black Label Wedge/Ramp Combo, with the ankle cuff padded segment measuring about 13" and the wrist cuff segments at about 11". They secure to the shapes and tethers via plastic snap buckle, and are easy and quick to attach and remove.
The Blindfold
The leopard print blindfold has satiny padding around the inside edge for comfort and to prevent peeking. Instead of just a stretchy strap around the head, there are velcro bands so you can easily adjust the stretchy straps. Some people just have bigger heads than others. Take my husband, for example. I'm tiny and he's huge. That means that blindfolds that fit me fine actually put too much pressure on his eyes because the band is stretching so far to fit him and causes the eye padding to press in. Being able to customize the fit and amount of stretch definitely makes things a lot more comfortable for the both of us. This is not your average cheapo blindfold.
I decided to wear it on my head while I was unpacking everything. I'm just weird like that. Hubby asked if I was supposed to be a maid. Since when do maids wear leopard print? Then I decided the cuffs velcroed to each other would make a nice sash until I was call Miss Africa (Dang beauty pageants…). After that, I made them into a cincher. Is it so weird to want to play dress-up with odds and ends?
Shape and Size
Because of the amount of surface area provided by the polyurethane foam insert, both the Wedge and the Ramp should hold up to a decent amount of weight. My husband is around 230lbs right now, and the little Wedge supports him just fine. Yes, the Wedge and Ramp are firm, but they're still soft enough to be comfortable. Plus, the microfiber cover made of polyester is very soft and luxurious.
Due to the texture of the microfiber cover, the shapes lock into one another and won't budge if a little pressure is exerted. If I'm using the Wedge on the Ramp as a pillow, I don't have to worry about it moving around at all.
Experience
There are so many options with the Black Label Wedge/Ramp Combo that it's almost difficult trying to decide. So, I went with the old stand-by. With the larger end of the Ramp meeting the end of the bed and the Wedge on the Ramp like the first picture in the review, I crawled onto it for some dangly doggy style. Hubby strapped in my wrists and decided the ankle cuffs would be better with the length adjusted to where my legs would hang bent at an angle so I couldn't step down to get away. Honestly, I'm so short that this position almost makes me feel like I'm floating, even when my legs aren't secured up. Seriously, my feet don't even touch the ground normally. Plus, this position gets him in me at the perfect angle, so I'm on cloud 9.
Face up and spread out is definitely a nice way to go for teasing. He took quite a power trip with it earlier, sliding only his head in and teasing my clit. That didn't last long. I have tiny wrists and he didn't strap them in tight enough. Therefore, *wrist-twist, buckle-click, I'm free!*.
Keeping Your Sub in Their Place
The best way to make sure you partner isn't going to go anywhere is to have their weight on the shapes you're using and don't let them try to rock their legs (If they do that, they might flip everything over and end up as a turtle.). Although I'm too small to flip everything over (5'1" about 96lbs), bigger people might be able to. Also, always make sure to have the cuffs tight, otherwise it's an easy out.
Using The Shapes by Themselves
You can also use the Wedge or Ramp by itself solely for positioning.
For bondage, I would only go with the Ramp by itself. Since it has three sets of buckles, you could cuff your partner's ankles right above their wrists, at the wider end of the Ramp. There should be little chance they'll get away, if you do that. Or you could cuff their ankles at one end and the wrists at the other.
The Wedge, however, is a bit light to use by itself and probably won't keep anyone submissive for long. It does work well as a positioning aid, though.
Cleaning and Care
The shapes come in three parts. First, you have the microfiber cover. Unzip that to reveal the water-proof nylon cover. Unzip that and you will find a contoured furniture grade polyurethane foam, which makes up the shape. And, just in case you forget, the care instructions are sewn to the inside of the microfiber cover.
Washing Liberator Gear covers makes them even better. They get softer with every wash, like your favorite pair of jeans.
The Microfiber Cover: Microfiber is very soft and almost like velvet. The nice thing about the material is that it keeps the shapes right where you need them without slipping and sliding around. Microfiber against other microfiber items means they're not going to slip around.
Just follow the instructions on the tag that is sewn to it. Machine wash separately or with like colors in cold water in a delicate cycle. Tumble dry on low and remove just before it's completely dry; then put it back on the shape ASAP to retain shape.
The same goes for the cuffs, blindfold, and straps, although you could just handwash those.
The Waterproof Nylon Cover: Though the nylon cover is machine-washable, I doubt you'll have the need. You can easily spot clean it but, if you do decide to machine wash it, use the gentle cycle on cold and tumble on low. Take it out just before it's dry and slip it back over your shape ASAP to keep the shape.
The Foam Shape: Never use this without the covers on! Once this gets dirty, it'll be a pain in the butt to clean! If you just can't wait, at least make sure that the nylon cover is on it.
Final Verdict
I loved our Wedge/Ramp Combo before, but it's even better now that it's been transformed into a Black Label Wedge/Ramp Combo. Really, I wish I would have bought it as Black Label in the first place. Perfect for light bondage and soft and sensual yet firm and supportive. Of course, being able to get into positions we weren't able to before is wonderful, too. Our 1'3" height difference makes things a little awkward sometimes without some help.