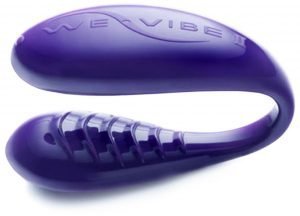 Having an orgasm during sex is not something every woman gets to experience. For some, vaginal penetration just won't produce results on its own. That's where the We-Vibe II comes in. This unique toy is designed specifically for use during intercourse.
One arm of the We-Vibe II provides G-spot stimulation while the other arm provides clitoral stimulation. Plus – the vibrations feel amazing for the man who is inserted as well – ensuring you both climax faster, bigger and wetter. What could possibly add more heat in the bedroom than simultaneous orgasms? That's about as good as it gets.
Pros:
Great sensations for both man and woman
Excellent quality, strong vibrations
Cons:
Penis and Vibe together can be uncomfortable if the man is too thick
For very small women, the vibe may not reach both g-spot and clitoris properly
Best Use: The We-Vibe II is well designed so it's incredibly easy to use and is completely hands-free once the correct position is found. Simply insert the narrow arm into the vagina where it can rest gently on the g-spot. The other arm will rest on the clitoris. With a vibrator in each of the arms, and 9 vibration modes to choose from – the biggest test will be to see how long she can actually last.
The inserted arm is slim enough that a man can easily enter her and feel the vibrations on his shaft as well.
Material / Texture: Made of medical-grade silicone, the We-Vibe II is hypoallergenic and smooth to the touch. Because silicone is a non-porous material, it is very easy to clean and easy to keep bacteria-free. Silicone also allows the toy to be firm enough for easy insertion, but flexible for utmost comfort as well.
Price: Starting as low as $49.99
Design / Shape / Size: The We-Vibe II is a fairly small toy at 3.25 inches long and 1 inch wide at its widest points. Also, it weighs only 2 ounces which is about the same as a tennis ball. Its small size and barely-there weight means you barely notice it (except for the amazing sensations) during sex.
Functions / Performance / Controls: With two vibration motors – one in each head – and 9 different vibration modes, there is sure to be a setting that you and your partner both love. The toy is also fully rechargeable (so no need to worry about batteries) and comes with a charger, storage bag and instructions.
Care & Maintenance: Easy to take care of; just wash the toy in warm, soapy water. The toy is only water-resistant, not waterproof, so do not completely immerse the toy in water. Wash it off and make sure it is completely dry before storing. Use only water-based lubricants with this toy.