Editor's Pick
Autoblow A.I.

Artificial Intelligence

100% Silicone Sleeves

Sleeves Can Be Changed

Great Beginner's Toy

Hand Free

Easy To Clean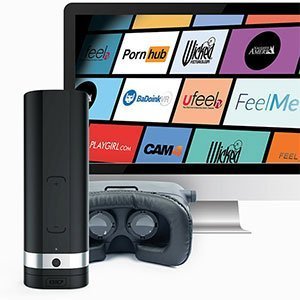 Kiiroo Onyx 2

Hands Free

USB Rechargeable

Sliding Scale Of Speed

Sleeves can be changed

Elegant And Discreet

Easy To Clean
Autoblow 2+ XT

100% Hands Free

No Batteries Needed

Industrial Strength Motor

Interchangeable Sleeves

Realistic Artificial Skin Material

Sleeves Are Easy To Clean
The Tenga Flip Hole is a
male masturbator
that looks like it came from the future – but those Japanese are always a few steps ahead of the rest of the world aren't they. Aside from looking futuristic, the Tenga Flip Hole delivers great pleasure when real sex just isn't available.
The detailed grooves on the inside of the Flip Hole make for extreme sensations along the shaft of your penis. With quality materials and an excellent feel, the Flip Hole is a great friend by yourself or with your partner. It especially makes a great travel pal!
Pros:
Tight fitting to deliver the best pleasure
Sleek design that comes apart for easier cleaning
Cons:
Docking stand is difficult to use
Because of the many grooves on the inside of the toy, it can be difficult to clean and keep dry
Best Use: The Tenga Flip Hole can be used pretty much anywhere. It has no moving parts, so it's ready to go any time that you are. Because of the tight fit, it doesn't take long to make you come – which means practicing with the Tenga Flip can also make you last longer during real sex.
Because the toy has no motor or batteries, it's an excellent option to take in the shower with you so you can get yourself off and nobody will wonder what you're doing. Because of its small size, it's also a great travel companion on long business trips.
Material / Texture: The Tenga Flip Hole is made out of silicone, which allows for a flexible and smooth feeling for the inside of the toy. Not only that, but silicone is hypoallergenic and very easy to clean. The outer casing is hard plastic, but that's not what touches your member, so who cares?
Price: Starting as low as $64.93
Design / Shape / Size: It is 6 ¾" in length, with the actual 'vaginal' shaft being 6" in length. The diameter is 3", and claims that it can fit any size penis. If you're longer than 6" in length – first, congrats – and second, you'll still feel amazing sensations on the majority of your shaft.
Functions / Performance / Controls: The Tenga Flip Hole is hand operated, so you never have to worry about whether it's charged or not. Once you lube up and insert your penis, you can press along the side where the three circles are to administer pressure wherever you need it most to get the most pleasure.
Care & Maintenance: First of all, water-based lubrication is definitely recommended when using this male sex toy, and the Flip Hole even comes with three different lubes to get you started. Just remember to really clean the toy after each use – it's easy, don't worry – just open it up and rinse with warm, soapy water.