Editor's Pick
Autoblow A.I.

Artificial Intelligence

100% Silicone Sleeves

Sleeves Can Be Changed

Great Beginner's Toy

Hand Free

Easy To Clean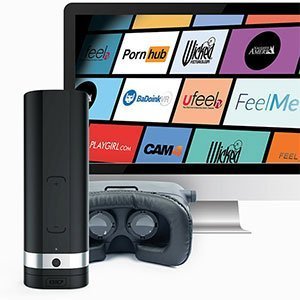 Kiiroo Onyx 2

Hands Free

USB Rechargeable

Sliding Scale Of Speed

Sleeves can be changed

Elegant And Discreet

Easy To Clean
Autoblow 2+ XT

100% Hands Free

No Batteries Needed

Industrial Strength Motor

Interchangeable Sleeves

Realistic Artificial Skin Material

Sleeves Are Easy To Clean
The Manzz Toys Danus is a beautiful addition to the self-pleasuring and stimulation of the anal passage and of course the prostate too. This little, but effective, butt plug only stands at a length of only 10cm, and this is the perfect ripples silicone butt plug that has a width of around 3cm, and is made of Platinum Silicon, which is totally safe for anal insertion.
The beautiful toy is a perfect shape for entering the anal passage, it looks slightly like an ordinary dildo, but on closer inspection you can see clearly that although it has a perfect head; it also has those all-important ripples. This will give the anus the impression of a triple entry. So not only once do you groan with pleasure usingit, but with the same forward movement will bring you another two groans of pleasure.
Do bottom of this little black beauty is highly flared, this allows the tool not to completely push through the anal passage and get lost. Remember that there is a natural vacuum inside the anus, so once inserted it is automatically sucked into the most exciting position.
Because of the size and shape of the Manzz Toys Danus is a perfect starter for butt pleasuring. No batteries included, as non are needed. This invention is a simple but totally effective pleasuring device that is controlled by you. The power of insertion and the movement within the anus is always controlled by you.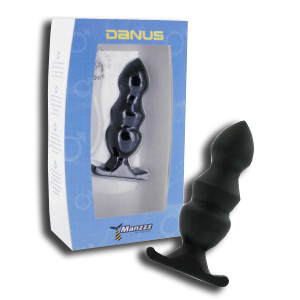 The wonderful device does not contain any Latex or Phthalates, and is completely safe to enter the human body. It is vital to use lubricant, especially for the beginners, as the sphincter muscle needs a little assistance in opening when inserting it.
Reviews
"I have been scared to death of trying anal products, but everyone has been telling me how wonderful it is for guys to enjoy plugging. I picked the Manzz Toys Danus as my beginner's package because of the size of it, and the very fact it looks very simple in design compared to some of the butt plugs I have seen on the market. I tried it with plenty of lubrication, and I am very happy to say that it was not a painful experience at all. In fact it was delicious to feel that sensation" Nigel L, Saigon, Vietnam.
"Lady luck drew my attention; well another word for luck was my girlfriend who chose it. She wanted me to experience anal butt fun with those special ripples. I love her for getting it, as I can really get high by inserting it. Those ripples make it feel like I am inserting two or three at the same time. GREAT." Paul S, Mumbai, India.
"Just the thrill I needed to spice up my lacking sex life." John G, Hue Hin, Thailand.