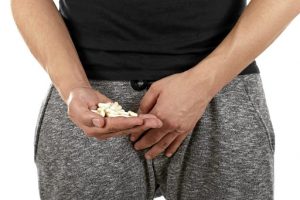 Sex is a wonderful thing. It is an expression of love and desire and it is also essential to procreation. It makes a person feel beautiful and loved. But time and routine can turn sex into a duty and one that you don't look forward to doing. If you want to save your marriage from future trouble then you should not veer away from trying something new, such as using any of the sexual enhancement products listed below.
Sexual Enhancement Products for Mutual Pleasure
A common misassumption of many is that sexual enhancement products are designed for either the exclusive use of men or women, hence vibrators (for women) and inflatable dolls (for men). But try to browse around shops for erotic or intimate products and you'll realize that not all products can be classified as toys and represent a threat to your sexual expertise and marriage.
There are products that can offer mutual pleasure. They are not embarrassing to purchase or own even so you won't have to worry about finding a place to hide them in your bedroom.
A great moisturizer with a wonderful chocolaty scent, Intimate Organics' Body Souffle is an excellent body lotion…provided you keep your mouth away from it.
Treasures of the Sea by Kama Sutra
Imagine hearing your husband describing you in words like 'delectable', 'delicious', and 'edible'. You can be that attractive in your husband's eyes when you use the Body Souffle body lotion by Intimate Organics. This body lotions is entirely made of vegan or organic ingredients and is thus completely safe to use if you are worried about potentially harmful products due to the chemicals they contain. If you are pregnant or have highly sensitive skin then your concerns are well-based.
But thankfully, Body Souffle is something that you won't have to worry about in that score. Even better, it has properties of aromatherapy. More particularly, you have three kinds of scents to choose from: lemon grass or coconut for a more exotic flavour, wild ginger or fresh orange if you want to smell refreshingly fragrant, and cocoa bean or goji berry if you want to smell sinfully sexy.
Of course, it's not enough to use Body Souffle as is. You need to set up the perfect tableau as well. Light the bedroom with candles and wait for your husband to come home…naked in bed and with your skin smooth and glowing.
Shunga Bath and Shower Gel Sensual Bath by Shunga Erotic Art
Have you been planning a weekend getaway to the beach but never had the time for it? Perhaps your fondest memories of your marriage have the beach as a setting. Or maybe many of your sexual fantasies involve the beach one way or another.
Treasures of the Sea contain moisturizers that possess the unmistakable and mesmerizing scents of sea weeds and the sea – just one whiff of it and you'll feel that your room has been transported to the shores of the beach. It's like you can almost hear the sounds of the waves crashing outside your bedroom.
The great thing about this sensual kit is that the application can be a mutual pleasure. The kit includes a natural loufa sponge and a sea shell scoop. You can use this both to apply the moisturizers to your skin. The moisturizers will help soften your skin, make it slick and smell sweet – the perfect combination for sex. It also has nourishing properties to make your skin maintain a supple texture and lustrous glow. But those are the bonuses – imagine what kind of foreplay you and your husband could enjoy with the use of this kit! It's a treasure indeed!
Shunga Bath and Shower Gel Sensual Bath by Shunga Erotic Art
Shunga Erotic Art is another firm that is famous for the world class design and quality for its products and its Sensual Bath set is testament to this. The bath and shower gel is based on vegetable oil, making it edible to use. Give yourself five seconds to imagine what you can do with an edible moisturizing gel. In fact, there's nothing wrong if your favour is returned. Your wife can give you a similar massage using the gel and lick you clean all over.
The Sensual Bath set by Shunga Erotic Art comes in two flavours: mint and fruit. A fruity scent sets a playful mood for the night. It gives you the opportunity to indulge in more frivolous pleasures before culminating with an explosive orgasm. A minty flavour, however, is like a sexual challenge; think of something new and exciting to try out. The sensual bath set is just an appetizer.
Love Stuff Bath Salts by Cal Exotics
There's a reason why many seduction scenes start – and end – in the bathroom. The bathroom is an intimate place. In some ways, it is even more intimate in the bedroom because you are often naked in this place and you do things here that you can never do anywhere else in your house.
When you let your husband inside the bathroom while you're taking a bath, it is one of the most seductive invitations you can ever make. The bath salts by Cal Exotics have aromatherapy properties to give you a scented bathing experience. While you wait for your husband to come home, you can stay inside your tub and let the bath salts make your skin well hydrated.
There are four flavours to choose from. Vanilla is the scent of sweet and tender nights, cherry is the flavour of romance and walks under the moonlight, sweet coconut will give you a tropical paradise in your home, while berries and cream make you the dessert your husband would be dying to taste.
Chemistry Bubble Bath Set by Kheper Games
This colorful and playful bath set allows you and your partner to return to your youthful days. Each tube contains a different scent: lavender for better relaxation, rose for a cozy and romantic night, pomegranate for a exotic sexual exploit and finally, lemon mint to keep your strength and stamina up all night long.