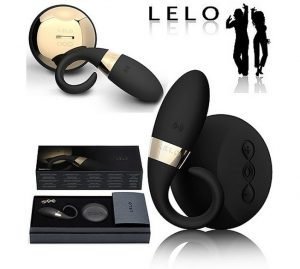 The Lelo Oden is made specifically for couple's enjoyment together, which makes it a great toy to purchase if a little spark is needed in the bedroom. The idea of the toy is that one piece goes around the penis, and the other piece – the control – mimics the vibrations of the cock ring so that both partners feel the same vibrations.
Understanding what your partner is feeling is the first step to making sure they feel extra good – and since the controller is vibrating anyways – why not see where it feels good.
Pros:
Quality made and durable product
Long-lasting charge of approximately one hour
Cons:
Falls out of place sometimes
Can feel too tight on a larger girth
Best Use: The Lelo Oden is a unique cock ring in that it is controlled by a remote. There are buttons on the remote to control the vibrations of the ring, but you can also control the ring with hand movements. If you wave your hand or shake it quickly up and down, the ring will mimic the movements.
On top of that, the remote will vibrate at the same intensities as the ring to allow the controller to monitor what their partner is feeling. While it is okay to use solo to increase pleasure in male masturbation, it really is best used as a couples toy.
Material/Texture: The Lelo Oden is made with a satin-finish silicone to deliver an incredibly soft and smooth feeling against your most sensitive parts. The Oden is also completely waterproof making it a great toy for water-play in the bath or shower, and also easy to clean.
Price: Starting as low as $143.34
Design/Shape/Size: In a sleek black and gold design, the Lelo Oden almost looks good enough to set out as decoration. When did sex toys become this beautiful? The ring is 3 inches long, and 1 inch wide. The toy does not need to wrap fully around the penis, just partially.
Functions/Performance/Controls: The Oden has 2 SenseMotion™ and 6 vibration modes. The ring is rechargeable and will last up to one hour on a full charge. The controller, however, takes two AA batteries but can last up to 10 hours with one set.
Care & Maintenance: As the Lelo Oden is waterproof, it is also incredibly easy to clean with just warm soapy water. Be sure to make sure the toy is completely dry before storing it to ensure no growth of mildew or bacteria. With regular use, the Lelo Oden is covered under Lelo's 1-year warranty policy.