Editor's Pick
Autoblow A.I.

Artificial Intelligence

100% Silicone Sleeves

Sleeves Can Be Changed

Great Beginner's Toy

Hand Free

Easy To Clean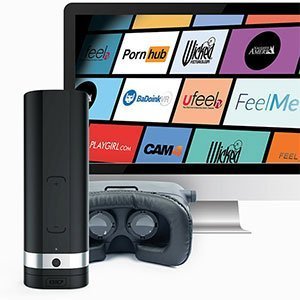 Kiiroo Onyx 2

Hands Free

USB Rechargeable

Sliding Scale Of Speed

Sleeves can be changed

Elegant And Discreet

Easy To Clean
Autoblow 2+ XT

100% Hands Free

No Batteries Needed

Industrial Strength Motor

Interchangeable Sleeves

Realistic Artificial Skin Material

Sleeves Are Easy To Clean
Looking to REALLY get taken on one hell of a wild ride? Enter the Mangasm Voyager (pun intended). It's our largest anal toy, is incredibly realistic, and has been designed to target your prostate in two different ways – with a perineum tab, and with vibrating prostate stimulating powers.
The Mangasm Voyager is our largest, and most aggressively shaped male G-spot stimulator. Shaped similarly to our Mangasm Edge, the Mangasm Voyager offers users an even fuller, and more intense, full-body orgasm that will rock your world and drench your sheets. Not only is the Voyager large in shape, and perfectly shaped to hit your prostate every time, but it also vibrates, resulting in incredible stimulation for the surrounding glands and area.
The Mangasm Voyager is a full 30% larger than our previously largest model – a full 30% thicker AND longer! While this toy may share the same shape as our Mangasm Edge, it also offers you an even fuller and more intense sensation that is sure to rock your world. Not only does the Voyager one-up the Edge with it's size, but also with its vibration – we've placed an even larger vibrating bullet inside the Voyager that is sure to have your jaw dropping in minutes.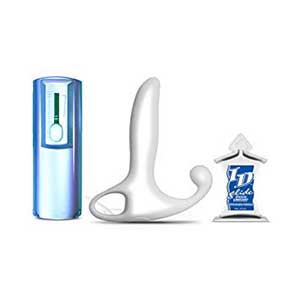 Material:
Realism:
Easiness of cleaning:
Price:
Also one big improvement with the Mangasm Voyager? The perineum tab is much larger, resulting in a whole lot of extra stimulation, and also a lot more pressure on your prostate from the outside of your body. You can bet that you'll be coming harder than ever before – you may want to stock up on some tissues when it comes to using this one. The perineum is a highly undervalued part of the male anatomy that goes a long way when it comes to sexual satisfaction and stimulation. This tiny little space between your balls and you ass makes all the difference when you rub it while stimulating the prostate.
When it comes to cleanup with the Mangasm Voyager, it's quite simple – wet a towel with hot water and some dish soap, lather up and wash the body of the toy, then pat dry with a dry towel. Sprinkle on a little cornstarch to keep the toy fresh and in good shape, and you'll be sure to guarantee your Voyager for years. It's important to keep the toy clean and sanitized, so you're able to use it with other partners if you wish, as well as to prolong the quality of the toy.
When it comes to losing the Mangasm Voyager, be sure to use plenty of lube, just like you would with anal sex. Pick up a bottle of our ID Glide Lube, and get ready to feel the silky smooth texture all over. Id Glide Lube is water-based, meaning it's a non-sticky, non-greasy and hypoallergenic lube that is fine for all skin sensitivities. We guarantee you'll love it.
Whether you're indulging yourself in a little bit of solo fun, or playing around with pleasure for a partner, we know you will love the Mangasm Voyager.
Customers Opinion/Feedbacks
"The size of this is just perfect. I do wish the vibrations were stronger, however." – Lester, Orlando, FL
"Love the Voyager, but I could have done without the perineum tab – it's kind of difficult to angle properly." – Paul, Tuscon, AZ
"The Voyager is the perfect size – not too intense, but just big enough." – Allan, Lexington, KT