Editor's Pick
Autoblow A.I.

Artificial Intelligence

100% Silicone Sleeves

Sleeves Can Be Changed

Great Beginner's Toy

Hand Free

Easy To Clean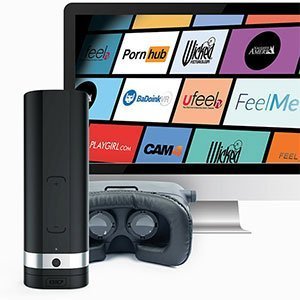 Kiiroo Onyx 2

Hands Free

USB Rechargeable

Sliding Scale Of Speed

Sleeves can be changed

Elegant And Discreet

Easy To Clean
Autoblow 2+ XT

100% Hands Free

No Batteries Needed

Industrial Strength Motor

Interchangeable Sleeves

Realistic Artificial Skin Material

Sleeves Are Easy To Clean
We have partnered with ID Glide Lubes to bring you one of the best advanced sexual lubricants on the planet. ID Glide is one of the best brands of lubes in the entire world. ID has been recognized for it's incredible viscosity, softness, and silkiness. It really helps to let you fully unwind when you're getting down. This lube is ideal with the entire range of toys we sell here; include Autoblow, Fleshlight, and all of the Mangasm toys. This lube is guaranteed to intensify the pleasure you experience from these various toys. This is one lube that won't dry out quickly before you can use it all. You'll love it!
ID has been designed to be as gentle as your body's own lubrication, and helps you to get intimate when you're simply having an issue getting your juices flowing. This lube contains only pure, natural and essential ingredients that will help you feel nothing but comfortable, pure pleasure. It's ideal for all of your personal, most intimate needs.
This size of lube is perfect for the occasional user, and should last about 1 to 2 months. This bottle size is ideal if you lube up when it comes to anal, or when you're looking to spice up regular sex. This is the best way to get ready and completely lubed up when you're looking to get down. There's nothing worse than trying to travel or having to transport a big, huge bottle of lube – it gets sticky, all over your clothing and suitcase, stains that are impossible to get out. This makes this bottle truly the perfect size.
This ID Glide Lube is both convenient and portable, and is ideal if you're traveling around. ID Glide is also non-staining, and won't leave behind any impossible to remove marks in case it spills. This makes this lube ideal for any situation, whether you're traveling, and best of all, you don't have to worry about those nasty sheet stains – nearly everyone has had one lube experience where their sheets have been ruined by a sticky, greasy lube, and there is unfortunately virtually no fix for this. Lube-stained sheets are impossible to fix.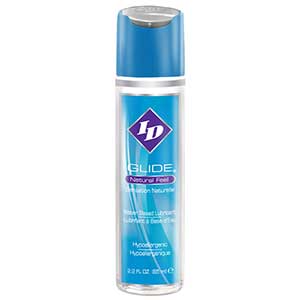 Material:
Realism:
Easiness of cleaning:
Price:
The ID Glide Lube is completely water-based, making it hypoallergenic, which means that there's little to no chance of allergic outbreaks. This lube has also been FDA approved, as well as recommended by doctors nationwide, so you know you're getting the absolute best when it comes to comfort AND pleasure. Best of all, the ID Glide Lube is easy to pair with silicone toys, and is perfectly safe, and won't effect the quality of the toy like some other lubes. Its also completely odorless and colorless, ensuring it will only result in pure pleasure.
This lube is the ideal lube to use in any situation – whether you're pairing it with a toy, during anal, or just for getting good ol' down and dirty. You'll be sure to love this lube for any sexual situation.
Customers Opinion/Feedbacks
"I loved using this lube. I'm super sensitive and allergic to a lot of other lubes, so I loved this one." – Mark P., Phoenix, AZ
"This lube was alright, just wish it had been thicker." – Jake M., Fargo, ND
"This lube was the perfect thickness and softness for anal!!" – Luke T., Dayton, OH