Editor's Pick
Autoblow A.I.

Artificial Intelligence

100% Silicone Sleeves

Sleeves Can Be Changed

Great Beginner's Toy

Hand Free

Easy To Clean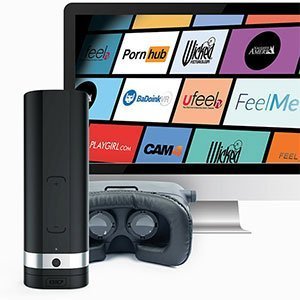 Kiiroo Onyx 2

Hands Free

USB Rechargeable

Sliding Scale Of Speed

Sleeves can be changed

Elegant And Discreet

Easy To Clean
Autoblow 2+ XT

100% Hands Free

No Batteries Needed

Industrial Strength Motor

Interchangeable Sleeves

Realistic Artificial Skin Material

Sleeves Are Easy To Clean
ID Glide Lube is simply one of the best lubes on the market. Men's Health Magazine, as well as several user satisfaction surveys have rated it as the absolute best lube on the market. Trust the lube of choice for men all over the nation – it really is the best!
ID Glide Lube is known for their slick, thick, water-based lubricant, and its high quality. It's non-favored, non-greasy, non-stick, non-staining, and completely fragrance free, making this lube ideal for absolutely anyone, but especially users with any kind of allergies or sensitivities. Water based lubes are the best because they're compatible with any kind of toy, any allergies, and any kind of sensitivities you may have or may be experiencing. Best of all, all water-based lubes are compatible with any kind of sexual experience, from anal, to vaginal, to oral – there are also all kinds of different flavors available. This way, you know you'll be safe with this lube in the most sensitive parts of your body, that are most prone to all kinds of allergies.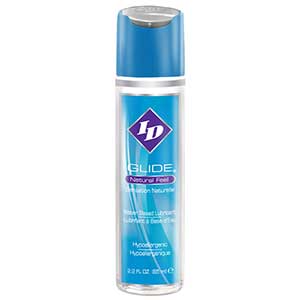 Material:
Realism:
Easiness of cleaning:
Price:
Best of all, this ID Glide Lube features a pump applicator that ensures that you get ever last drop of lube – no more squeezing or cutting open lube containers to get that last little drop of lube. It's also perfect to ensure you get just enough lube, and that you don't have to worry about a huge plop of lube coming out, and you'll always get the perfect amount. The only drawback to any kind of water based lube is that it may require several different applications throughout, especially during vigorous, or marathon, sessions in the sack.
This thick, rich and smooth, water-based lube is perfect for all kinds of condoms, as well as all kinds of adult toys, including vibrators, dongs, and any other kind of toy you can think of. It's always annoying when lube stains or starts to eat away at toys that you've spent a lot of money on.
If you've ever gotten lube on sheets, or clothing, you know absolutely impossible it is to get lube out of expensive, or favorite sheets and clothes. It's only natural during sex that you're going to be getting lube on your sheets in bed, especially if you wipe your hands from the stickiness. This often leaves behind greasy, gross stains that are virtually impossible to launder out. With water based lubricants, rather than silicone based lubricants, you can simply launder out anything that leaves a stain, though they rarely leave even the smallest mark, since they're not greasy whatsoever.
Treat yourself to easy, silky smooth penetration. Just a tiny dab of this thick, high quality lube will go a long way. Even after hours of mind-blowing sex, add a drop or two to restore lubricity. This lube is completely odor-free, flavorless, hypoallergenic, non-greasy, non-stick and non-staining. This is the ultimate lube for sex, solo pleasure, condoms, or any kind of penetration and intercourse.
Customers Opinion/Feedbacks
"I love this lube. I've been allergic and had really gross reactions to a lot of other lubes, but I loved this one." – Albert K., Wilmington, DE
"I love that this lube doesn't leave that gross taste in your mouth, unlike a lot of silicone-based lubes." – Louis T., Portland, ME
"Such a good value for this much high-quality lube. I wish it was thicker, though." – Michael L., Boise, ID