Editor's Pick
Autoblow A.I.

Artificial Intelligence

100% Silicone Sleeves

Sleeves Can Be Changed

Great Beginner's Toy

Hand Free

Easy To Clean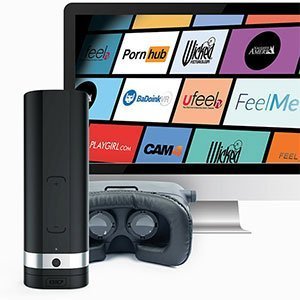 Kiiroo Onyx 2

Hands Free

USB Rechargeable

Sliding Scale Of Speed

Sleeves can be changed

Elegant And Discreet

Easy To Clean
Autoblow 2+ XT

100% Hands Free

No Batteries Needed

Industrial Strength Motor

Interchangeable Sleeves

Realistic Artificial Skin Material

Sleeves Are Easy To Clean
When you're looking for a prostate massager that is guaranteed to blow your mind, turn to the Mangasm Flux – a prostate massager and male G-spot stimulator that takes it's shape from anal beads, but manages to give a stimulating and orgasmic prostate massage. The bumps gently work your prostate and massage it, without putting too much force on the actual organ. It also helps to massage the glands and area around the prostate, delivering pleasure throughout your entire body.
The Mangasm Flux is made of antibacterial silicone, which helps to stretch and conform to the contours of your body, and how your body actually works – it helps to make using the toy a great deal more comfortable. Silicone is the most hygienic material for all sex toys, and is renowned for it's soft, flexible feel. It feels absolutely amazing, and makes this a great toy for first-timers or those looking to play around with ass play for the first time. You're sure to love the way the Mangasm Flux gently massages your prostate – be prepared for an incredible orgasm.
Unlike the other Mangasm prostate stimulators, the Mangasm Flux doesn't particularly put a whole lot of pressure on the actual prostate itself. The toy actually massages the prostate using the balls that the toy is made up of, which move back and forth and rub against the prostate, resulting in a building, growing and powerful orgasm. The varied and growing size of the different balls on the toy grows larger as the toy goes deeper, making insertion much more comfortable and easy – making this a great toy for beginners or men looking to experiment with anal for the very first time. If you also want to experience a much less intense male G-spot stimulator, unlike our vibrating anal toys, the Mangasm Flux is the perfect starting point.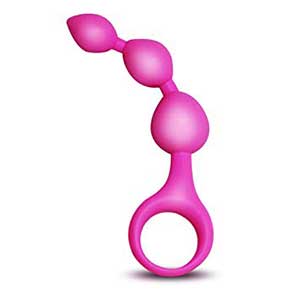 Material:
Realism:
Easiness of cleaning:
Price:
When it comes to using the Mangasm Flux, be sure to lube up beforehand. ID Glide Lube is a fantastic lube that is non-staining and non-greasy, and also water-based, making it perfect for people with any kind of sensitive skin allergies that may end up bothering them. It's also ideal if you hate too-sticky lube, which is typically common of silicone-based lubes. This lube is also thick, and ideal for anal play – make sure to use a little before indulging.
When you're all finished with playing around with your Mangasm Flux, it's important to clean and sanitize the toy for playing around with other. To clean, simply wash with warm water, and antibacterial dish soap. This helps to disinfect the toy. From here, towel-dry or pat it dry, and sprinkle with a tiny bit of cornstarch to keep it fresh. Alternately, you can put a condom over the toy before use, to simplify clean up.
The Mangasm Flux is the perfect toy for beginners and first-time users wanting to indulge in a little anal fun either solo, or when playing with a partner – we know you'll love it!
Customers Opinion/Feedbacks
"I loved how the orgasm wasn't too intense with this toy. Just perfect for supplementing a sack session." – Nathan P., Manchester, NH
"I wish the girth of the Flux was slightly wider, but I loved the graduated massagers." – Matthew M., New Haven, CT
"My only complaint about this? I wish there was a tab to stimulate the perineum." – Steven P., Seattle, WA