Editor's Pick
Autoblow A.I.

Artificial Intelligence

100% Silicone Sleeves

Sleeves Can Be Changed

Great Beginner's Toy

Hand Free

Easy To Clean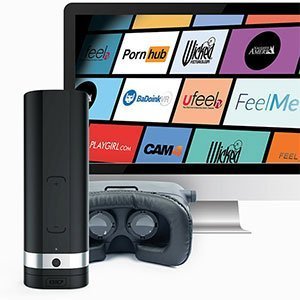 Kiiroo Onyx 2

Hands Free

USB Rechargeable

Sliding Scale Of Speed

Sleeves can be changed

Elegant And Discreet

Easy To Clean
Autoblow 2+ XT

100% Hands Free

No Batteries Needed

Industrial Strength Motor

Interchangeable Sleeves

Realistic Artificial Skin Material

Sleeves Are Easy To Clean
Looking for a little twist when it comes to a male G-spot stimulator? This toy should come with a warning label – for causing INTENSE ejaculation and orgasm! With it's vibrating prostate stimulation power, and taint teasing nodules, you're about to be in for the ride of your life.
The Mangasm Spark has tiny raised up nodules and little tabs along the base of the toy, which line up perfectly with your perineum, which in turn helps to stimulate and rub this highly sensitive spot. That's not all – this toy is also loaded with a vibrating bullet, located inside the shaft of the toy, and stimulates your prostate, as well as all of the surrounding glands near this sensitive spot. With both of these highly sensitive, erogenous zones being stimulated at once, you're most definitely headed for an incredible orgasm.
Flip on the whisper-quiet vibrator and feel the vibrating bullet inside the shaft go to town on your prostate, or ride the toy for a hands-free, mind-blowing ending that is sure to end with you shooting a huge load. Either way, you're really in for a treat. This toy is great for both men who are looking to experiment with anal and prostate fun, as well as experienced players – it's thick enough to satisfy both, and the nodules and vibrations are sure to wow even the most experienced stimulator aficionados.
Material:
Realism:
Easiness of cleaning:
Price:
The Mangasm Spark is also much longer and thicker, with a lot more girth than the rest of the stimulators in the Mangasm line of toys. It helps put a whole lot of pressure and weight on your sensitive prostate, guaranteeing that you'll be needing a whole lot of tissues when you're through with this male G-spot stimulator.
The Mangasm Spark is made of silicone, which is by far the cleanliest and most sanitary material for all kinds of sex toys. It also bends and contours with the inside of your body, making anal pleasure a whole lot more comfortable. Silicone is also extremely easy to clean and care for. To clean up the toy after use, simply take a small hand towel, make damp with warm, soapy water, using a small amount of disinfecting, anti-bacterial dish soap. Wipe the toy thoroughly, and pat dry with a towel after. Occasionally sprinkle the silicone shaft with cornstarch to keep it fresh. Alternatively, use a condom while riding the Mangasm to maintain the flawless, smooth surface of the toy, and to make cleanup a whole lot easier.
When you decide to pair up with the Mangasm Spark, it's important to lube up with a high quality water-based lube, just as you would with any other anal toy. This helps make the whole experience a whole lot more comfortable, and helps you ease into the toy comfortably. We recommend ID Glide Lube – it's thick, water-based, non-staining, non-greasy, and hypoallergenic.
When you're looking for a male G-spot stimulator that's sure to wow, the Mangasm Spark is one you're going to want to reach for.
Customers Opinion/Feedbacks
"I've used other toys in the Mangasm line, but I love the added raised spikes on this Spark. Definitely worth the extra bucks." – Stan P., Saint Paul, MN
"I feel like the Spark could be a little thicker, but overall I was satisfied. I loved the sleek design and raised bumps." – Paul W., Sand Hills, NE
"Totally addicted to the Mangasm Spark. Took a little for me to work into it, since this is my first male g-spot stimulator, but after a while, I grew to love it." – Bryan T., Providence, RI