Editor's Pick
Autoblow A.I.

Artificial Intelligence

100% Silicone Sleeves

Sleeves Can Be Changed

Great Beginner's Toy

Hand Free

Easy To Clean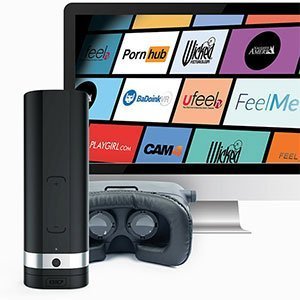 Kiiroo Onyx 2

Hands Free

USB Rechargeable

Sliding Scale Of Speed

Sleeves can be changed

Elegant And Discreet

Easy To Clean
Autoblow 2+ XT

100% Hands Free

No Batteries Needed

Industrial Strength Motor

Interchangeable Sleeves

Realistic Artificial Skin Material

Sleeves Are Easy To Clean
Reach the perfect angle for the purest prostate pleasure you've ever experienced with the Mangasm Rush! What sets this male G-spot Stimulator apart? This G-spot stimulator features a double pivoting head that can actually rotate a full 180 degrees, which allows the toy to form to the contours and curves of your body, just the way you're sure to like it. It actually curves to fit the inside of you!
The Mangasm Rush is crafted from soft, shapely and crafted from silicone. This ensures that the toy will not only stay clean and sanitary, but will also conform to the curves of your body. One difference from the other toys in the Mangasm line? The Mangasm Rush has a much larger, more aggressive design than previous offerings, making it one toy you're sure to want to take for a ride.
This toy features a much larger head than previous toys in the line, so it may take a while for even the fans of previous Mangasm toys to get used to it's width and girth. Many users who choose the Rush as their first G-spot stimulator may be slightly taken aback by how strong and intense the toy can actually be. This G-spot stimulator has been known to make many come in mere minutes, so this is one toy that we recommend for our more experienced users – this level of pleasure is absolutely for everyone, but the intensity may take some getting used to. It has plenty of girth and width without being too intimidating or daunting.
Material:
Realism:
Easiness of cleaning:
Price:
The Mangasm Rush targets your prostate, as well as the surrounding area and glands with its large, almost bulbous tip. This is sure to result in a fiery orgasm, but we recommend pairing up with some water-based lube before playing around with this toy to help get you warmed up. This G-spot stimulator feels amazing with the silky, thick texture of ID Glide Lube, and is sure to blow your mind. The head's smooth silicone entry point has been specially designed to make penetration a breeze, and to help you really work the toy in. Its flexible silicone body also makes for a much smoother, easier penetration than a lot of other toys on the market. The contours of this toy are sure to you're your prostate in ways you've never imagined. This male G-spot stimulator is a great way to spice up both solo play, as well as fun with a partner – you're sure to love it.
Clean up with this male G-spot stimulator is sure to be super easy. Simply submerge in warm, soapy water, let soak, and then pat and dry off. Or, make sure to use a condom during use to both prolong the quality of the toy, as well as to make cleanup even easier.
Take your anal adventures to the next level with the Mangasm Rush – it's one male G-spot stimulator that is sure to have you screaming out for more.
Customers Opinion/Feedbacks
"This toy definitely took some getting used to, and might have been a little uncomfortable, but I got used to it quickly when I realized how strong my orgasms were with the Mangasm Rush." – Mark W., Orlando, FL
"This is a great price for such a high-quality, large stimulator. I was a little apprehensive, but I ended up loving the Rush." – Louis T., Frankfort, KY
"I mistakenly bought this as my first male G-spot toy – I would not recommend this toy to beginners. Eventually, I ended up warming up to it, though." – Doug L., Montreal, QC