Editor's Pick
Autoblow A.I.

Artificial Intelligence

100% Silicone Sleeves

Sleeves Can Be Changed

Great Beginner's Toy

Hand Free

Easy To Clean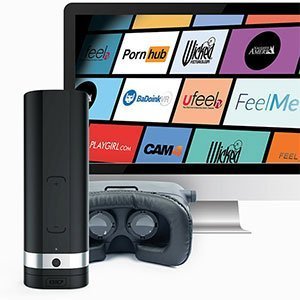 Kiiroo Onyx 2

Hands Free

USB Rechargeable

Sliding Scale Of Speed

Sleeves can be changed

Elegant And Discreet

Easy To Clean
Autoblow 2+ XT

100% Hands Free

No Batteries Needed

Industrial Strength Motor

Interchangeable Sleeves

Realistic Artificial Skin Material

Sleeves Are Easy To Clean
The Mangasm Buzz is by far our most popular vibrating prostate toy – and after just one use, you'll be a convert as well. A lot of men tend to prefer a vibrating prostate toy over one that doesn't vibrate. Often times, a vibrating prostate toy delivers a much stronger, intense prostate massage, and a much stronger male G-Spot orgasm. The Mangasm Buzz is unique because it works to deliver it's pure pleasure from it's unique, curved shape, combined with it's 5 vibrating bullets – resulting in the most intense orgasm of all. You're sure to love it!
The Mangasm Buzz is made from silicone – this is the most hygienic and clean of all toys, particularly when it comes to male anal toys. It's like a cock you can bend! Silicone is a great material for sex toys, since it is completely hygienic, and is great for cleanliness. The shape of this cock is ideal for working deep into your ass, and provides all kinds of incredible stimulation and sensation. You can also bend and work in the length of the toy to really stimulate your prostate, as well as to help you warm up to the width and length of the toy. It is also the most flexible, and the most comfortable material for all male anal toys. This makes it ideal for not only anal first-timers, but even those experienced with ass play.
The shape of the Mangasm Buzz isn't the only reason why it is such a people pleaser – the real pleasure comes purely from the 5 vibrating bullets, which you're able to remove at any time, if you want to slightly change the level of intensity at which the vibrator performs. However, the vibrating bullets have been specially designed to not only target just your prostate, but also the surrounding spots and glands, all of which are particularly sensitive as well, resulting in a sensual, full-body orgasm that will completely rock your body.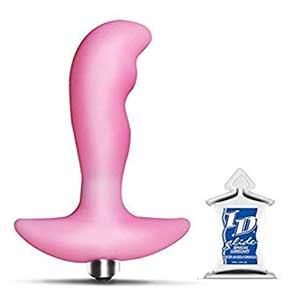 Material:
Realism:
Easiness of cleaning:
Price:
When playing around with the Mangasm Buzz, it's best to treat it and prepare the same way you would for real anal sex – using a condom helps to keep the toy from wearing away, and lubing up is always important. Lube will help you warm up to the toy, and will help you work the toy deep enough to hit your prostate. It's also important to clean the toy on a regular basis – with warm water, and plenty of soap (regular dish soap will do). This way, you can keep the toy clean and ready for later use. Using the toy with a condom also results in less overall cleanup for you.
The Mangasm Buzz is ideal for solo play, or fun with a partner. Either way, you're in for a serious male G-spot orgasm that will completely shake you from your core. Combine a Mangasm Buzz with one of our Autoblow toys or Fleshlights, as well as some ID Glide Lube – you'll be in for the ride of your life. Let the Mangasm Buzz rock your world!
Customers Opinion/Feedbacks
"This gives you this amazing, head-to-toe orgasm." – Lee J., Diluth, MN
"This toy has single-handedly made me an assplay convert." – Mike B., Philadelphia, PA
"I wish the toy was a little longer, and a little less thick, but overall, I loved it." – Reggie O., Vancouver, BC